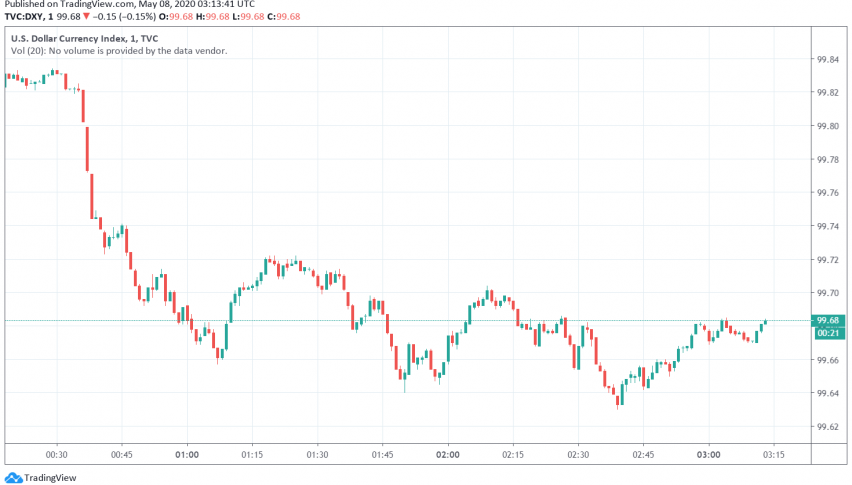 US Dollar Slips Ahead of NFP Release, Rise in Unemployment Claims Weigh
Early on Friday, the US dollar is trading bearish against its peers ahead of the release of the much awaited NFP figures later in the session, even as the risk sentiment in the market improves and sends traders towards riskier currencies and away from the safe haven of the greenback. At the time of writing, the US dollar index DXY is trading around 99.68.
Markets are likely to focus their attention on the NFP figures releasing today which should offer clarity on the impact of the coronavirus pandemic and resulting lockdowns on employment in the US over the previous month. Economists have forecast a decline of 22 million jobs for the month of April, the highest ever drop on record and far more severe than the 800k decline seen during the 2009 financial crisis.
The US dollar also weakened in the previous session following the release of the latest weekly jobless claims data from the country. Over 3.1 million Americans filed for unemployment benefits during the week ending on May 2, slightly higher than economists' forecast of 3 million. Since the lockdown was announced in late March, over 33.5 million workers have filed for unemployment in the US.
The improvement in the market sentiment over expectations of economies reopening is also driving the US dollar weaker. In recent weeks, the dollar had gained preference as a safe haven currency due to the rising uncertainty about the economic impact of the pandemic, but with economic activity restarting, traders are moving away from the dollar and back towards riskier currencies.