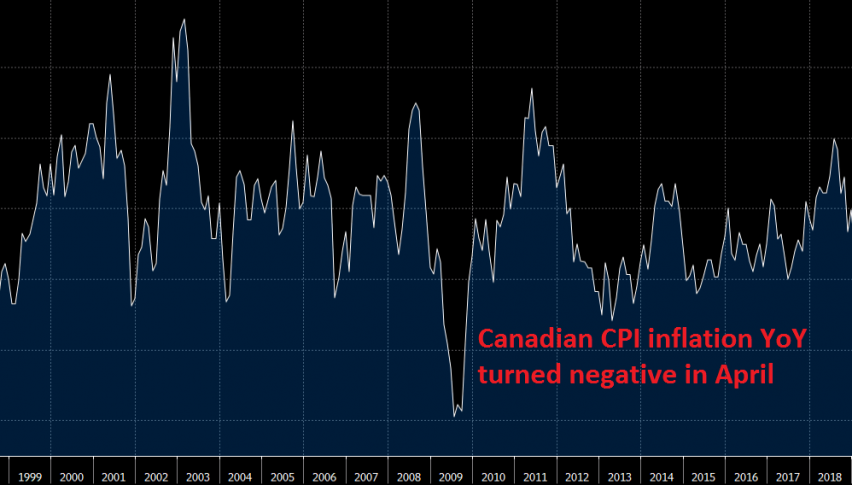 Inflation Declines for the Second Month in Canada
Inflation turned negative for several months during the second half of last year, as the trade war between US and China hurt the demand for energy prices. Although, inflation turned positive again in the first two months of this year. But, with the coronavirus lockdown and Crude Oil prices tumbling lower in the last two months, it wasn't out of the blue that inflation turned negative again.
Headline CPI (consumer price index) turned negative again in February, declining by 0.6%, while the decline increased further to -0.7% in April, as today's report showed. The annual inflation rate also turned negative in April.
Canadian CPI Report for April:
CPI MoM -0.7% vs -0.6% expected
March CPI MoM stood at -0.6%
April CPI YoY -0.2% vs -0.1% expected
March CPI YoY stood at +0.9%
Median CPI YoY +2.0% vs +1.9% expected
Common CPI YoY +1.6% vs +1.7% expected
Trimmed mean CPI YoY +1.8% vs +1.8% expected
This is Canada's first dip into annual deflation since 2009, but the rebound in energy prices in May might reverse that in next month's report. We're not really going to get a sense of the price of anything for a few more months until the economy reopens and we find out what kind of new normal we're living in.
Wholesale Trade Sales for March 2020:
March wholesale sales -2.2% vs -4.8% expected
February wholesale sales was +0.7%
Trade volumes -2.8%
Inventories +0.1%
This is the first decline following three months of gains, but it won't be the last as April data will undoubtedly drag down sales far further. The decline was expected to be bigger though, at -4.8%, but sales fell by 2.2% instead and the decline should be bigger for April, when the report comes out in a month's time.