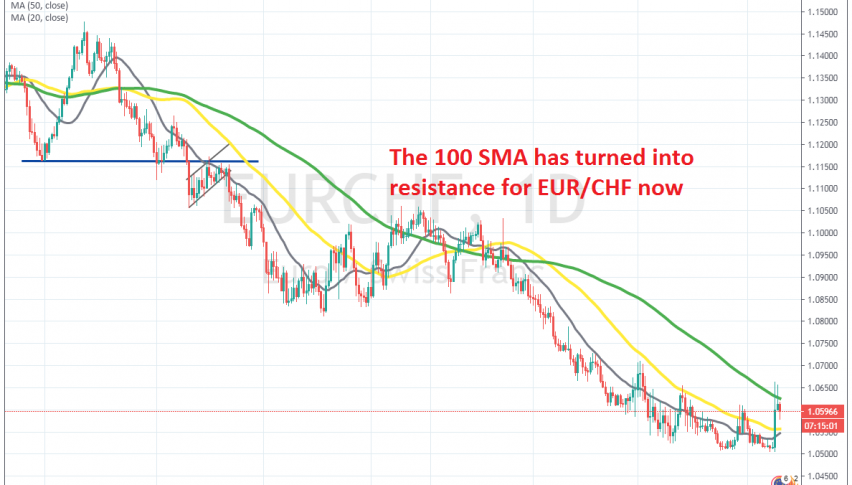 Seems Like the SNB Intervention Won't Be Enough to Keep EUR/CHF Up
EUR/CHF has been on a bearish trend for a long time. Last year this pair lost around 6 cents, but the decline stopped int the last few months of 2019 and we saw a pullback higher, as safe havens retreated, following the trade deal between US and China, as well as the Brexit deal.
But, the bearish trend resumed again once this year started, with the tensions between Iran and the US, which were followed by the outbreak of coronavirus, first in china and then in the rest of the world. As a result, the sentiment deteriorated again and safe havens climbed higher.
EUR/CHF turned bearish again, falling to 1.05 by late April, where it formed a support zone. The pace of the decline was quite strong, with smaller MAs providing resistance during weak pullbacks. The 20 SMA (grey) was pushing EUR/CHF lower at first, then the 50 SMA (yellow) took up that job in recent weeks, as the trend slowed a little. But, on Monday we saw a strong jump higher worth around 150 pips.
France and Germany proposed a recovery fund for coronavirus that day, which has had some impact on this pair, as the Euro climbed higher across the board. But, I don;t think those comments were enough to push this pair 150 higher, so the odds point to the Swiss National Bank (SNB) intervening in the market, as they do from time to time to weaken the CHF.
But, the climb ended right a the 100 SMA (grey) on the daily chart, which seems to have turned into resistance now. Yesterday we saw this pair form an upside-down hammer candlestick, which is a bearish reversing signal, while today the reversal has began. So, the jump is over now and we will try to get in on the short side in EUR/CHF.