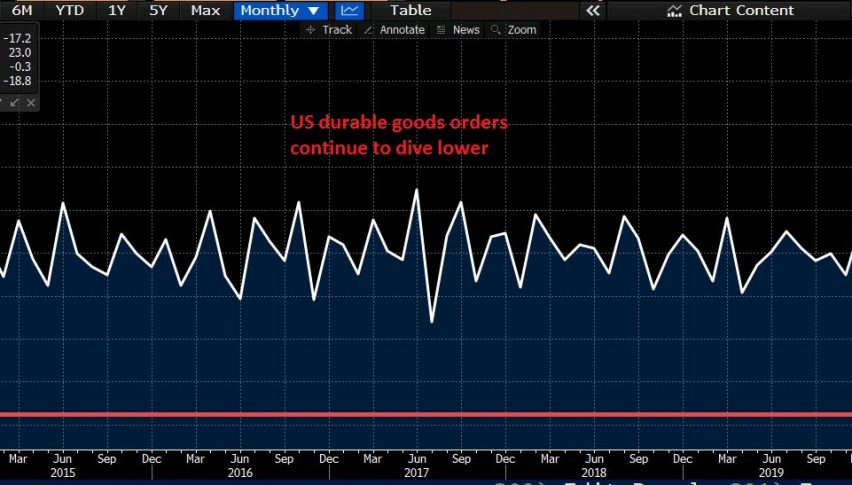 The Terrible Numbers Continue for US Durable Goods Orders and Unemployment Claims
US durable goods orders were already volatile in the last few months of 2019 and the first two months of this year. But, they turned massively negative in March, due to the lockdown, declining by 14.4%. Thursday's report showed an even bigger decline of 17.2% for April.
The unemployment claims have been declining since early April, but they remain pretty high, at more than 2 million people filing for benefits last week. The total number of unemployment claims has added up to more than 40 million people already.
US Durable Goods Orders for April 2020 (prelim)
Durable goods orders for April (P) -17.2% vs. -19.1% estimate
Durable goods -17.2% vs. -19.1% estimate
Prior month -16.6% vs. -15.3% previously reported
Core order ex. transportation -7.4% vs. -15.0% estimate. March core orders -1.7% vs. -0.6% previously reported
Capital goods orders, non-defense, ex. air -5.8% vs. -10.0% estimate. March capital orders at -1.1% vs. -0.8% previously reported.
Capital goods shipments non-defense ex. air month -5.4% vs. -12.2% estimate. March capital goods shipment at -1.2% from -0.3% previously. This is a proxy for equipment investment in governments GDP report.
The decline in durable goods was the most since August 2014
US Unemployment Claims and Continuing Claims Report
Last week's initial jobless claims 2123K vs. 2100K estimate.
Prior week revised slightly higher to 2446K vs. 2438K previously reported
Four-week average 2608K vs. 3044K previously
Continuing claims 21052K vs. 25680K estimate. Prior month 24912K vs. 25073K estimate
4 week moving average to 22722.25K vs. 21962K previously

The total number of claims since mid-March is now over 40.8 million.