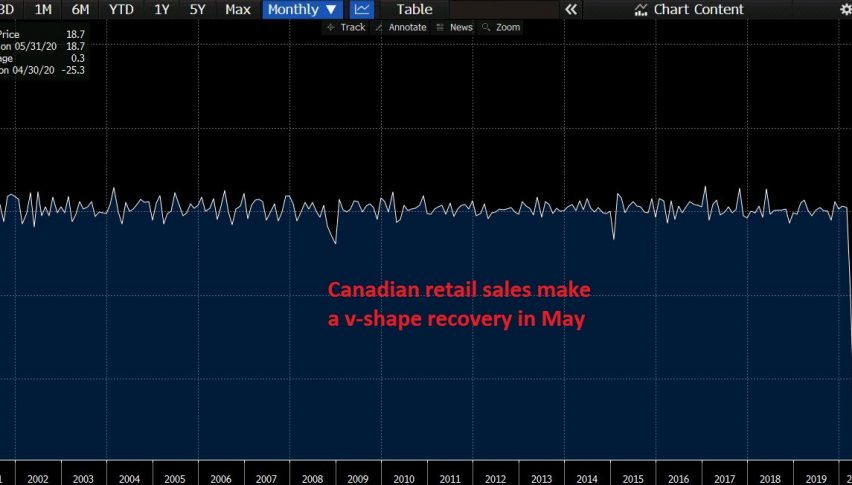 Canadian Retail Sales Reverse in May
Retail sales posted some major declines in Canada during March and April. In March we saw a 10% decline, but in April the decline came at -26.4%, which was revised lower today at -25.0%. Core sales also posted a major decline of 22% in April, but at least today's report showed a reversal for May, as the economy started to reopen. Although, it missed expectations and year-on-year numbers are still negative. Below is the retail sales from Canada for May and the Chicago FED activity index for June:
Canadian Retail Sales, May 2020
Canada retail sales for May 18 .7% vs. 20.0% estimate. Year on year retail sales are down -18.4%
April retail sales came in at -26.4%, revised to -25.3%. In March the index fell by -9.9%. Year
Retail sales excluding autos at 10.6% vs. 11.9% estimate. Prior month was revised from -22.0% to -20.7%. Year on year retail sales ex auto's are down -10.6%
Motor vehicle and Parts dealers showed a gain of 66.3% month on month. But it is down -39.3% year on year
Largest upside contributor on month was new car dealers category, +9.97%
Largest downside contributor was the supermarkets, -0.83%
Toronto retail sales grew by 8.0% month on month. Montréal grew by 32.0%. Vancouver grew by 14.4%
Chicago Fed national activity index for June 2020
Chicago Fed national activity index for June rose to 4.11. That is a record high going back to at least 2000
May was revised higher to 3.5 from 2.61
The gains come off of a record low reading in April of -17.89
The index was led by improvements in production and employment related indicators
54 of 85 monthly individual indicators made positive contributions
31 of 85 made negative contributions
The Fed national activity index is a composite of 85 indicators. A reading above 0 indicates growth. While a reading below 0 and indicates contraction.