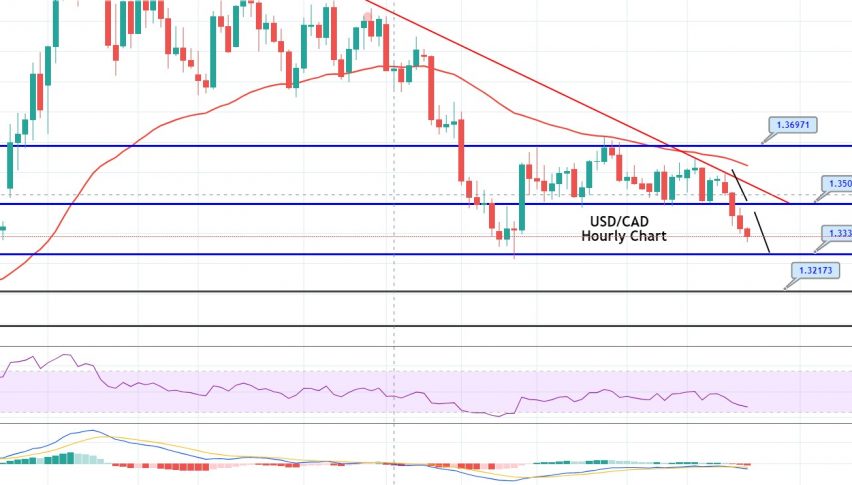 USD/CAD Heading Towards Triple Bottom Support – Trading Plan! 
Posted Thursday, July 23, 2020 by
Arslan Butt
• 2 min read
The USD/CAD pair closed at 1.34181, after placing a high of 1.34828 and a low of 1.33994. Overall, the movement of the USD/CAD pair remained bearish throughout the day. The USD/CAD pair extended its losses for the 3rd consecutive session, on the back of the weakness of the broad-based US dollar and better-than-expected CPI data from Canada, along with the rising crude oil prices. All factors that impact the USD/CAD pair were against it on Wednesday, resulting in the USD/CAD pair extending its losses of the previous day, falling below 1.4300, which is the lowest level since June 11.
On the data front, at 17:30 GMT, the Consumer Price Index from Canada surged to 0.8% in June compared to the 0.4% that was forecast, lending support to the Canadian dollar. The Common CPI for the year also rose to 1.5% from the expected 1.4%. The Median CPI increased too, rising to 1.9% against the projection of 1.8%. The Trimmed CPI for the year reached 1.8% against the projected 1.6%, supporting the Canadian dollar. The Core CPI for June came in at 0.4%.
The better-than-expected Consumer Price Index released by Statistics Canada revealed that Canada's inflation reached 0.7% in June every year. The reading came in higher than the market expectation of 0.2%, helping the Canadian dollar to gain traction in the market, and weighing on the USD/CAD pair.
The WTI posted gains, pushing up to $ 42 per barrel on Wednesday, even after US crude oil inventories surged to 4.9M last week, against the forecast of -2.1M. However, the US dollar was unattractive, and WTI crude oil derived its upward movements from the valuation of the USD, as the two have a negative correlation. The Canadian dollar became even stronger after the rise in demand for crude oil, on the back of a weak US dollar.
The rise in crude oil prices gave strength to the commodity-linked Loonie, ultimately pushing the USD/CAD pair further to the downside.
The US dollar remained depressive on the back of poorer-than-expected macroeconomic data, including the fact that the HPI for May dropped to -0.3%, against the expected 0.3%, and the Existing Home Sales dropping to 4.72 M, compared to the expected 4.77M in June.
The US dollar index also dropped to the 95.07 level on Tuesday, which revealed the US dollar's weakness. The rising number of coronavirus cases and the delay in the US stimulus package both weighed on the US dollar on Wednesday, also adding to the currency pair's losses on the day.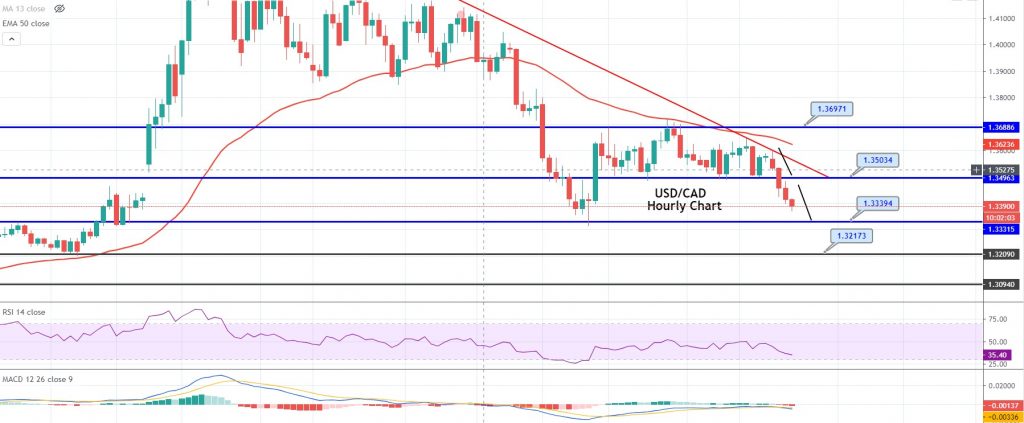 Daily Technical Levels
Support Resistance
1.3382 1.3468
1.3347 1.3519
1.3295 1.3554
Pivot point; 1.3433
The USD/CAD pair has violated the triple bottom support level of 1.3504, and now it could head towards the next support level of 1.3339. The RSI and MACD are both holding in a selling zone, while the 50 periods EMA stays at the 1.3623 level. The idea today is to stay bearish until 1.3339 and below this, our target will be 1.3219. Good luck