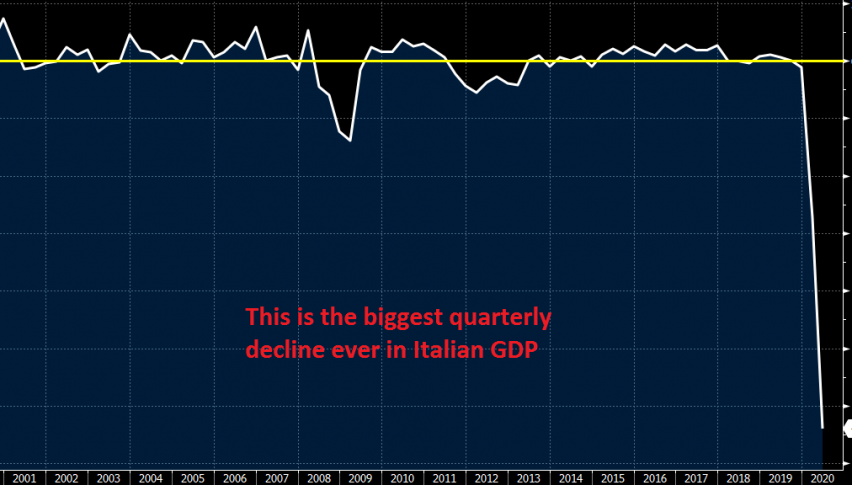 Situation Looks Bad in Italy, As GDP and CPI Remain Negative
The Italian economy was the weaknes one among major economies in the Eurozone in recent years and it fell in recession in Q3-Q4 of 2018. It started to recuperate in 2019, but then the coronavirus came and Italy was hit the hardest from the virus and the lock-downs that followed. The GDP took a deep dive, as the report below shows, while YoY CPI inflation remains negative at -0.5%.
Italian GDP Report Q2
Italy Q2 final GDP QoQ -12.8% vs -12.4% prelim
Q2 final GDP YoY -17.7% vs -17.3% prelim
Slightly negative revisions to initial estimates but it just reaffirms the worst quarterly contraction on record in the Italian economy during Q2, as the country is among the hardest hit by the pandemic in Europe.
Latest CPI Report Released by Istat – 31 August 2020
August preliminary CPI YoY -0.5% vs -0.5% expected
Prior CPI YoY -0.3%; revised to -0.4%
CPI MoM +0.3% vs +0.3% expected
Prior CPI MoM -0.1%; revised to -0.2%
HICP YoY -0.5% vs -0.3% expected
Prior HICP YoY +0.8%
HICP MoM -1.3% vs -1.1% expected
Prior HICP MoM -0.6%; revised to -0.7%
Italian headline annual inflation slumps to its weakest level since April 2016, as price pressures across the European region remains more subdued in August. This just reaffirms the narrative that the ECB will keep the stimulus tap flowing for an extended period of time.