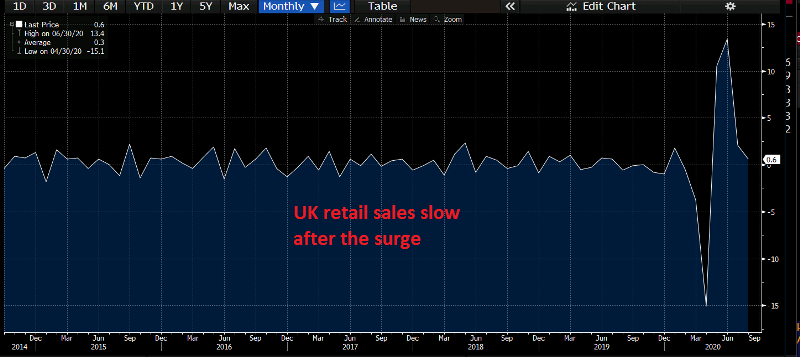 UK Retail Sales Cool Off in August, YoY Sales Keep Increasing
Retail sales took a plunge in March and April, declining more than 23%  during the lockdown months. But they jumped higher by around 26% in May and June, while in July, they grew by 3.6%, which was revised higher to 3.7% today. But, they are cooling off now, increasing by just 0.6% in August. However, there were no summer beach holidays this year, so people didn't spend much money on summer items. On the other hand, the YoY sales continue to increase, which is a positive sign.
UK August Retail Sales Report
August retail sales 0.6% vs 0.7% expected
July retail sales were +3.6%, revised to +3.7%
Retail sales YoY  2.8% vs 3.0% expected
July sales YoY 1.4%
Core retail sales (ex autos, fuel) MoM 0.6% vs +0.4% expected
Prior core sales were MoM +2.0%; revised to 2.1%
Retail sales (ex autos, fuel) YoY + 4.3% vs +4.2% expected
Prior sales YoY were +3.1%
The pent-up demand from lockdown, that has been showing itself in the data in recent months, is pulling back as expected. However, the GBP remains unfazed, as this data point is not in focus now.