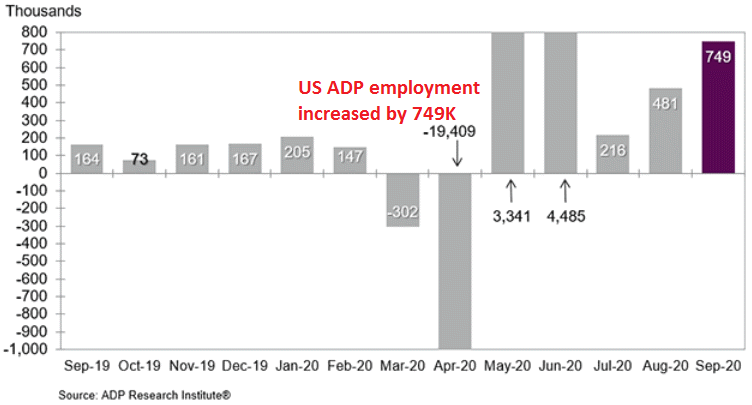 The US Job Sector Seems Alright, As ADP Employment Surged
Posted Wednesday, September 30, 2020 by
Skerdian Meta
• 2 min read
Employment took a huge dive in the US during the lock-down months in March and April, with ADP employment declining by some 23 million during those two months. In June, we saw a s.369 million increase but that cooled off to 167K in July. Although ADP employment has been increasing in September and the number for August was revised higher as well.
The GDP report was also releasd earlier today, with the contraction revised slightly lower for Q2. These numbers, as well as Mnuchin's comments on the stimulus package should be positive for the USD, but the USD lost around 30 pips after this report, although it has reversed higher now.
September 2020 payrolls estimate from ADP
ADP September employment +749K vs +649K expected
August employment was +428
Goods producing jobs +196K
Service providing jobs +552K
This is a good reading but according to ADP's count, the US is still 10,439,000 jobs shy of where it was in February.
The third and final cut for the 2Q GDP
The final US 2Q GDP came in slightly better than expected at -31.4% vs. -31.7% estimate
Prior estimate came in at -31.7%
US exports -64.4% vs. -63.2% previous
Imports -54.1% vs. previous -54.0%
Business inventories change cuts 3.5 percentage points from GDP with a $-287 billion vs. $-286.4 billion
Consumption -33.2% vs. -34.1% previous
Private investment -46.6% vs. -46.2% previously
Government +2.5% vs. +2.8% previously
GDP price index came in at -1.8% vs. -2.0% estimate. Last -2.00%
Core PCE quarter on quarter came in at -0.8% vs. -1.0% estimate. Last -1.0%
The worst GDP on record but it is old news now.  The 3Q will see a rebound in the data. but traders might not be influenced by the numbers until the 4th quarter data (if there is no further shutdowns). Remember the US GDP is annualized. So GDP did not decline by -31.4% on the quarter but would have declined by that amount if the trend continued for 4 quarters (annualized).
We have some important economic events this week, although crude Oil is under spotlight as China's economy should show a rebound
3 weeks ago