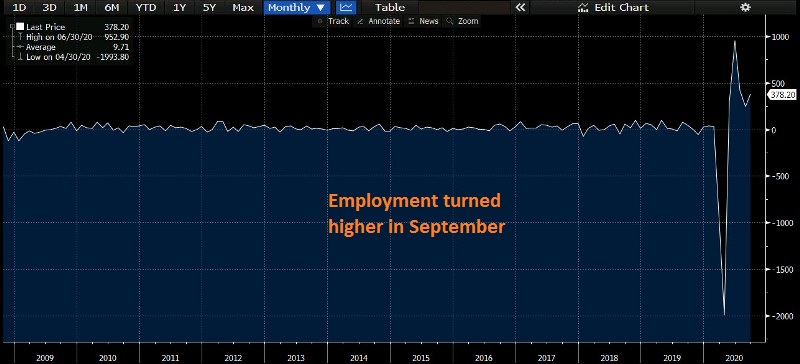 Impressive Canadian Employment, Sending USD/CAD Lower
The Canadian economy started recovering from the hole it fell in during lock-downs, but the recovery started later than other countries and it looked weaker. Even so, in August and September we have seen the recovery weaken again. Although, today's employment report was quite impressive, improving the sentiment for the CAD.
Canada employment statistics for September 2020
Change in employment 378.2K vs 150K expected
Full-time employment 334K vs 205.8K expected
Part-time employment 442.K vs 40.0 expected
Unemployment rate 9.0% vs 9.8%  expected
Hourly wage rate permanent employees 5.4% vs. 5.6% estimated
Participation rate 65.0% vs. 64.7% previously
Goods producing added 75.1 K vs. 27.6 K last month
Service producing added 303.1k vs. 205.8K last month
Private employment rose 259.8 K vs. 275.5 K last month
Public employment rose 143.6 K vs. 28.3 K last month
Self-employment fell -25.1 K in September vs. minus 58K in August
The labor force rose by 163.9 K in September
Better-than-expected numbers across the board with the bigger rise than expectations in the net change in employment and the sharp decline in the unemployment rate.
USD/CAD
lost around 50 pips after this report, as the CAD moved higher and the USD declined again.