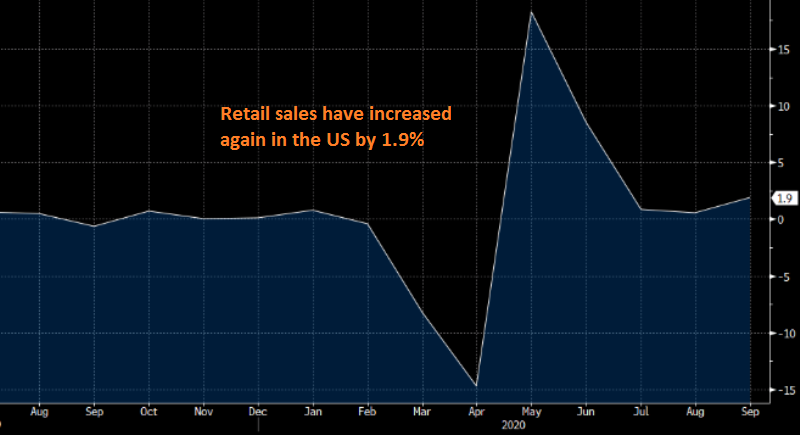 US Consumer Remains Robust, As Retail Sales Increase Again in September
The US consumer is one of  the main drivers behind the US economy in normal times. These are not normal times, but the US consumer remains robust, as the University of Michigan consumer sentiment indicator showed earlier. The retail sales report for September confirmed this, as sales jumped by 1.9%. So, the US is keeping up the pace of the economic recovery post covid lock-downs, which should help the USD once the elections are over, given that the result is accepted by both parties.
September 2020 US Retail Sales Report
September retail sales +1.9% vs +0.8% expected
Sales in September stood at +0.7% (revised to +0.5%)
Retail sales control group +1.4% vs. +0.2% estimate
Prior control group -0.1% (revised to -0.3%)
Retail sales ex auto +1.5% vs. +0.4% estimate
Retail sales ex auto and gas +1.5% vs. 0.5% estimate
This is a very strong report. As the old saying goes "never underestimate the spending power of the US consumer."
Even the details are great. The lift in spending is widespread and well-above year-ago levels.
There are still some weak spots coming out of the pandemic, like clothing sales were remain deeply depressed. But they were up 11% m/m. Eating and drinking edged higher at +2.1%.