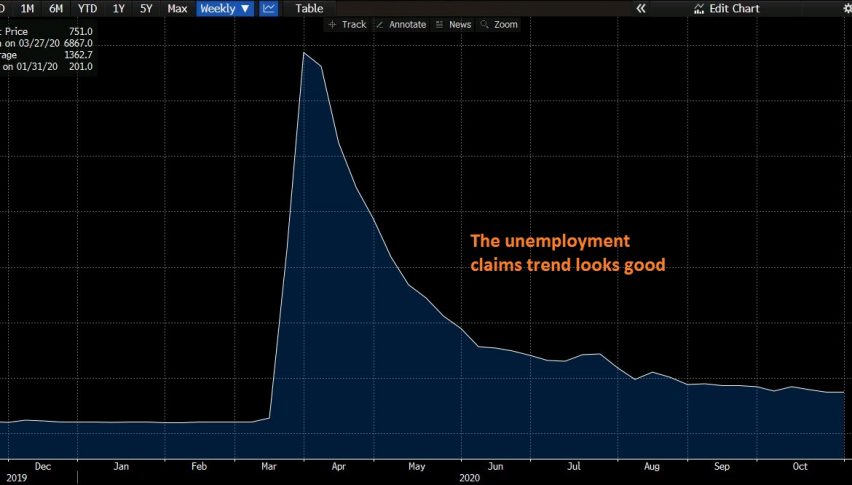 US Unemployment Claims Remained Unchanged Last Week
The unemployment claims in the US surged during the lockdown months, as they did everywhere. The unemployment rate jumped to around 20% unofficially, while the number of unemployed US citizens reached 40 million. But they have been declining since then. Jobless claims got stuck above 1 million for some time, but they continued to decline and now remain within 750k area. Today's report was expected to show another cool off, but it remained unchanged at 751K.
US initial jobless claims and continuing claims
Initial jobless claims 751K vs. 735K estimate
Prior week 751K. The current week was revised to 2758K
Initial jobless claims, 4-week moving average 787K vs. 791K last week
Continuing claims 7285K vs. 7200K estimate
Prior week 7756K was revised to 7823K
Continuing claims, 4-week moving average 8244.25K vs 9071.75K
The largest increases in initial claims for the week ending October 24 were in Illinois (+6,190), Michigan (+5,442), Massachusetts (+2,483), Minnesota (+1,848), and Connecticut (+1,621),
The largest decreases were in Texas (-10,113), California (-7,700), Florida (-6,528), New York (-3,291), and Louisiana (-3,096).
Although higher than expected, the number this week is the lowest since March 13. Nevertheless, the risk and concern is that another wave of Covid-19 could see the numbers drifting back to the upside again. The big employment news will come tomorrow, when the change in nonfarm payroll is expected to show a gain of 600,000. This  is lower than the 661,000 last month. The ADP employment report yesterday was weaker than expected, at 365K vs. the estimated 643K.
US third quarter productivity
Q3 prelim non-farm productivity +4.9% vs +5.6% expected
Prior non-farm productivity was +10.1%
Unit labor costs -8.9% vs -11.0% expected
Prior unit labor costs +9.0%
The turnaroud in labor costs is due to the low-wage workers, who were furloughed during the Q2 lockdowns, returning to work, so the composition of the labor force changed.