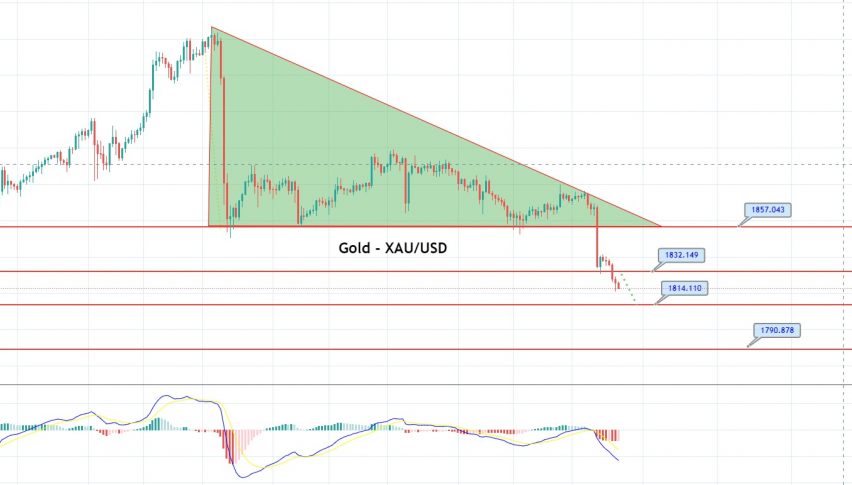 Daily Brief, November 24 – Everything You Need to Know About Gold! 
Posted Tuesday, November 24, 2020 by
Arslan Butt
• 3 min read
Good morning traders,
Prices for the precious metal, GOLD, closed at 1,837.79, after placing a high of 1,876.08, and a low of 1,830.91. The gold price fell by more than 2% on Monday, to its lowest level in four months, due to the strength of the US dollar, as a result of better-than-expected macroeconomic data and rising optimism regarding coronavirus vaccines. At 19:45 GMT, the US Flash Manufacturing PMI figures for November were released, showing a rise to 56.7, against the projected 52.5, which supported the US dollar. The Flash Services PMI increased to 57.7, against the expected 55.8, also boosting the greenback.
On Monday, the US business activity data showed that, in November, it expanded at the fastest rate in more than five years, boosting optimism about the health of the US economy, and lifting the US dollar, which in turn put pressure on the yellow metal prices. Another important factor behind the losses in gold on Monday was the latest optimism by Britain's AstraZeneca, stating that its vaccine could be around 90% effective without any severe side effects. As the uncertainty declined in the market, with back to back vaccine optimism, investors started to move back to stocks and riskier assets, making it more difficult for bullion to remain on board. Some investors also believe that gold is currently seeing a correction, as it has risen more than 21% this year, due to its safe-haven status against inflation and currency debasement.
The British drug company AstraZeneca said that the clinical trials of its vaccine showed that it was 70% effective in protecting against the virus, and this could be increased to 90% with a second dose. It could also be stored in an ordinary refrigerator, and it was likely to be much cheaper than a rival vaccine from Pfizer, which was said to be 95% effective, but required super-freeze storage conditions that would raise the distribution cost. The announcement by Pfizer sent GOLD prices down by 5% on November 9, and in contrast to this, the yellow metal lost about 3% last Monday, after Moderna reported progress with another coronavirus vaccine.
On Monday, more positive news came in from Regeneron. Their coronavirus antibody cocktail, which President Donald Trump used last month when he was hospitalized with COVID-19, has been granted emergency authorization use by the Food and Drug Administration. Reports are also circulating that the US FDA is likely to approve the vaccine developed by Pfizer and BioNtech by December 11, when it will be available to Americans, to boost their immune systems.
With more progress in the vaccine area, lifting of lockdown restrictions has increased, along with the chances of economic recovery, which raised the risk sentiment and weighed on gold prices. However, the pandemic-hit economy still needs further support from governments, to help it heal from the crisis, and that is why investors were under the impression that the Fed and European Central Banks are likely to unleash more stimulus in December, in an effort to counter the effects of the second wave of the coronavirus. However, the delay in the release of US financial support, due to the two parties' inability to reach an agreement, has weighed continuously on the gold prices.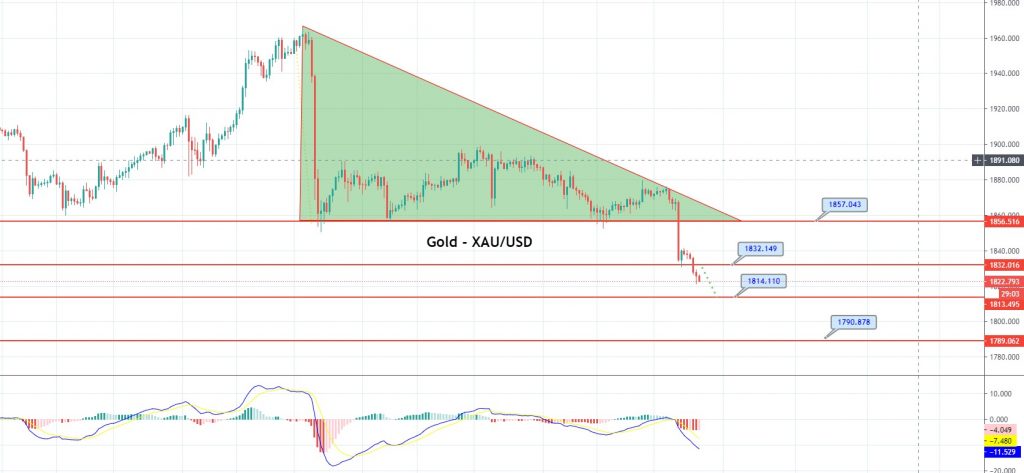 Daily Technical Levels
Support              Resistance
1,868.25             1,872.45
1,865.75             1,874.15
1,864.05            1,876.65
Pivot Point:      1,869.95
The precious metal, GOLD, slipped sharply from 1,857 to 1,821, holding below an immediate resistance area of 1,832. Closing of candles below the 1,832 level is likely to trigger a further selling trend, until the next support level of 1,814. As we can see on the 2-hour timeframe, gold has violated the symmetric triangle pattern, driving a strong bearish movement in the market. The MACD and RSI are in support of the selling trend. Let's consider staying bearish below the 1,832 level today. Good luck!