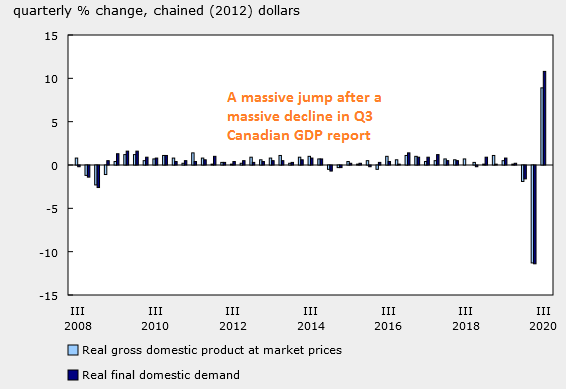 Record Surge in Canadian GDP in Q3, in Between of 2 Deep Valleys in Q1 and Q4
The economy of Canada came back on track during Q3, after the country reopened, following the lock-downs in March and April. The economy expanded by 40.5%, although it missed expectations of 47.9%. Although, in Q2 we saw the biggest contraction ever at -38.7% and Q4 should be another terrible quarter, as the country is locking down again, on top of the winter season which is severe in Canada. So, the chart above should come back down in Q4 and Q3 will look like a mountain between two deep valleys.
Q3 GDP +40.5% QoQ annualized vs +47.9% expected
Largest quarterly gain on record
Q2 GDP was -38.7%
GDP YoY +8.9% vs -11.3% in Q2
September GDP +0.8% MoM vs +0.9% expected
August GDP +1.2% MoM, revised to 0.9%
September GDP YoY -3.9% vs -2.9% expected
Aug GDP YoY -3.8%
Housing investment +30.2% QoQ and +10.3% YoY
Household spending +13.0% in Q3 vs -13.6% in Q2
A $381.6B deficit doesn't buy what it used to. Inventories were a drag as companies drew down $33.1, leaving the stock to sales ratio at the lowest since Q4 2018. That should be a tailwind in upcoming data. The household savings rate also remains extremely high at 14.6% but down from a record 27.5% in Q2. Before the pandemic, it was at 2.0% in Q4 of last year.
The report is also a reminder that estimating GDP down to 0.1 pp is a fool's errand. Canadian benchmark revisions moved GDP from 3.17% to 3.04% for 2017, and revised up from 2.01% to 2.43% for 2018, and from 1.66% to 1.86% for 2019.
We have some important economic events this week, although crude Oil is under spotlight as China's economy should show a rebound
1 month ago