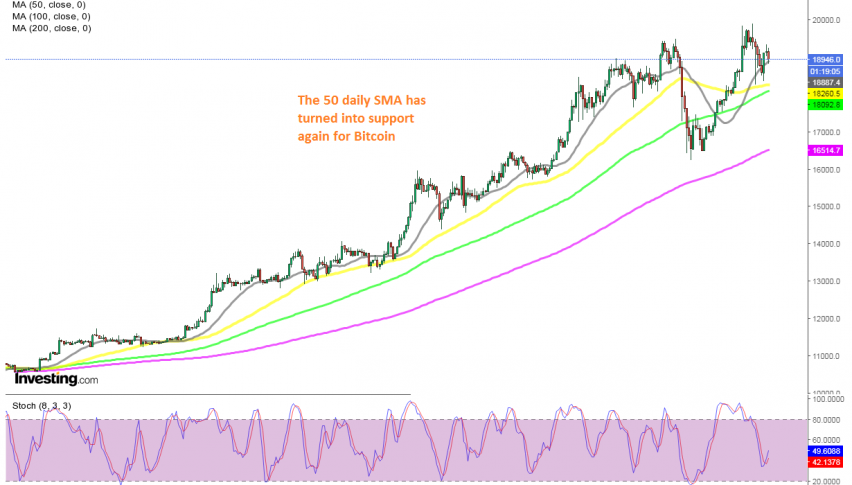 Bitcoin Fails at $ 20,000 Again, But Remains Well Supported
BITCOIN surged close to $ 19.500 last week. Cryptocurrencies have been surging higher in November, as markets turn to them as a safe haven, when everything else has become too risky to buy. But, the price reversed last Wednesday and Bitcoin went through a major decline, losing more than $ 3,000.
But, the 20 SMA held as support on the daily chart and after forming a doji candlestick right at that moving average, which is a bullish reversing signal after the pullback, Bitcoin reversed back up. This time buyers pushed as close to the $ 20,000 level as possible, but failed to break above it once again.
The price retreated lower after the failure to break the ultimate resistance level, but the decline doesn't seem to convincing. it stopped at the 50 SMA (yellow) on the H4 chart. This moving average has been providing support for Bitcoin before and it took up that job again yesterday.
Today the price bounced off that moving average and moved above $ 19,000, which tells us that the pressure remains to the upside and the $ 20,000 level might be broken soon. If the big break happens, I wouldn't go long right away, but rather wait for a test of this level form the upside. If it holds as support, then I might open a buy signal here. We are already long on Litecoin, which broke above $ 90 yesterday, but s trading around $ 87.50 now.