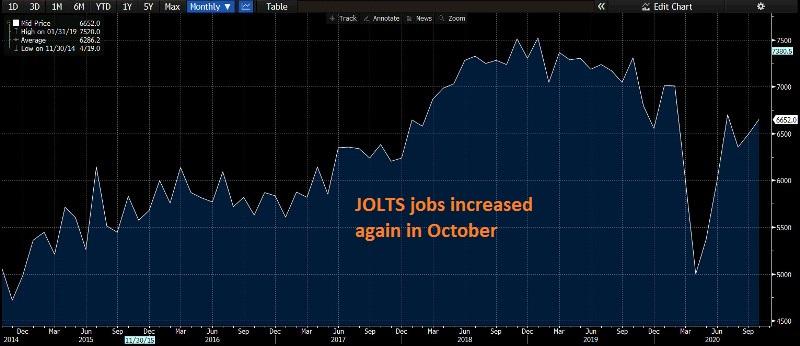 JOLTS Job Openings Keep Increasing in the US
Employment has been improving in the US and it continues to march higher, although the unemployment rate remains quite high, as do the jobless claims.  The US economy is also doing quite well, especially when compared to other major global economies like the Eurozone, which appears to be heading towards another recession.
The JOLTS job report has been showing a constant increase in recent months, and yesterday's report showed another jump in October, when expectations were for a cool-down to 6.3 million. This shows that the US economy is still advancing, but the USD is not benefiting from it.
Jolts job openings for October
JOLTS job openings increased by 6652M vs the 6300M estimate. The prior month came in at 6494M.
Job openings rate (job openings as a percentage of total employment plus openings) rose by 4.5% vs. 4.4% last month
The pace of hiring ticked lower to +4.1% vs. 4.2% last month
3.092M people quit their jobs in October. The quit rate was 2.2%
The separations rate came in at 3.6% vs. 3.4% last month
Layoffs and discharges at 1.2% in October vs. 1.0% in September.  1,680,000 people were fired or laid off in November vs. 1,778,000 in October. An additional 336,000 people left their employment due to retirements, transfers to other locations, death and separations due to disability