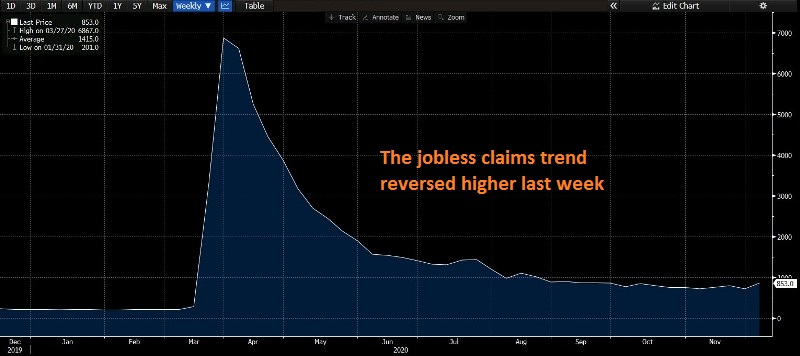 Unemployment Claims Jump Higher in the US
The unemployment claims surged during the lock-downs in the US, while the unemployment rate increased to 20% unofficially. They started declining in summer and fell below 1 million claims/week in October after stagnating above that level for several weeks. Claims continued to decline, falling below 700K last month, but today's report showed a jump to 853K last week, from 712K in the previous one, which sent the USD 30 pips lower.
US initial jobless claims and continuing claims
initial jobless claims rise to 853K vs 725K estimate
prior week revised to 716K from 712K
US continuing claims rise to 5757K vs 5210K estimate
prior week revised to5527K vs 5520K estimate
The rise in the initial jobless claims it certainly a concern especially as pandemic headwinds increase after the Thanksgiving holiday and coming into the key Christmas selling season.
Inflation took a dive during spring everywhere across the globe, as crude Oil prices tumbled lower during that time. But, it reversed higher in summer, after the reopening of the world, with CPI coming at 0.6% on a monthly basis. Although it started cooling off again in the previous months and in October both headline and core CPI fell flat at 0.0%.
Today's report though is showing an increase again, coming at 0.2% for both inflation measures. YoY CPI also increased, which should be positive for the USD, considering that inflation is falling in Europe and the UK, but the USD is not taking advantage of anything positive lately.
US CPI for November 2020
CPI MoM 0.2% vs. 0.1% estimate
ex food and energy 0.2% vs. 0.1% estimate
CPI YOY 1.2% vs. 1.1% estimate
CPI YOY ex food and energy 1.6% vs. 1.5% estimate
real average hourly earnings year on year remains unchanged at 3.2%
real average weekly earnings year on year 4.7% vs. 4.4%