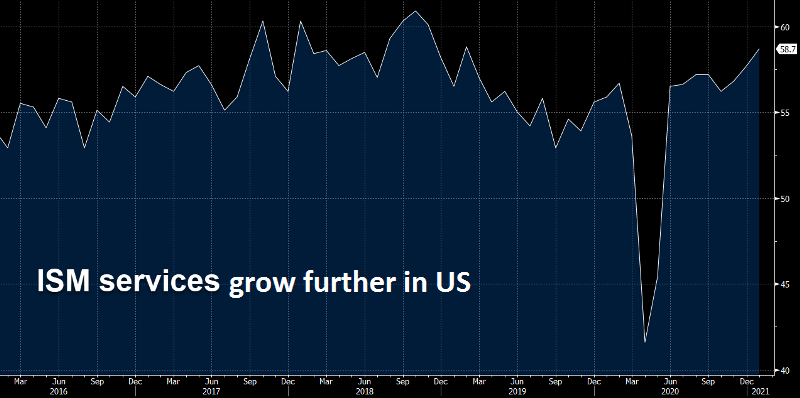 Services Surging Too in US
The performance of the manufacturing sector has been impressive in the US during the last several months, but this sector is booming everywhere, even in Europe where services are in recession. In the US, services are surging higher as well. December was great, january is even better with the highest reading in 2 years.
January ISM services index
January US ISM services index 58.7 vs 56.7 expected
Highest reading since February 2019
Prior was 57.7
Prices paid 64.2 vs 64.4
New orders 61.8 vs 58.5 prior
Employment 55.2 vs 48.2 prior
This is another sign of the incredible resilience of the US economy.
More details:
Backlog of orders 50.9 vs 48.7 prior
New export orders 47.0 vs 57.3 prior
Imports 53.5 vs 51.8 prior
Supplier deliveries 57.8 vs 62.8 prior
Inventory change 49.2 vs 58.2 prior
Inventory sentiment 49.7 vs 47.7 prior
Comments in the report:
"Many of our restaurant locations remain completely shut down to on-site dining. We remain optimistic about business trends beyond April/May 2021. [We] have a very challenging few months to go." (Accommodation & Food Services)
"Orders for new business have picked up. Labor is still the major impediment to the business." (Construction)
"Seasonal reduction of activity due to winter break from campus activity." (Educational Services)
"Start of 2021 on track with a positive outlook." (Finance & Insurance)
"Increased number of COVID-19 patients has forced the cancellation of elective surgeries. Bed capacity limited." (Health Care & Social Assistance)
"The copper shortage is slowing deliveries of key network equipment." (Information)
"Still working under COVID-19 restrictions and uncertain political climate." (Mining)
"Overall, everything continues to be more optimistic; however, we are still seeing impacts from suppliers that are being affected by limiting staff due to COVID-19 restrictions." (Other Services)
"Post-holidays spending is up. Many capital projects and expenditures are coming to fruition." (Public Administration)
"Business outlook for 2021 looks better. Companies are optimistic that conditions will start improving by the end of the second quarter." (Retail Trade)
"Business outlook for 2021 is positive with projects and capital investments moving forward. Target financial objectives have been obtained." (Utilities)
Good start to the year; business has promising growth. Market conditions are still affected by logistics issues, both domestic and international. Also, prices for raw material prices and freight are increasing up, by 4 percent to 13 percent." (Wholesale Trade)
We are seeing large moves on any decent economic report, which indicates that markets are not certain about a hard or a soft global recessio
5 months ago