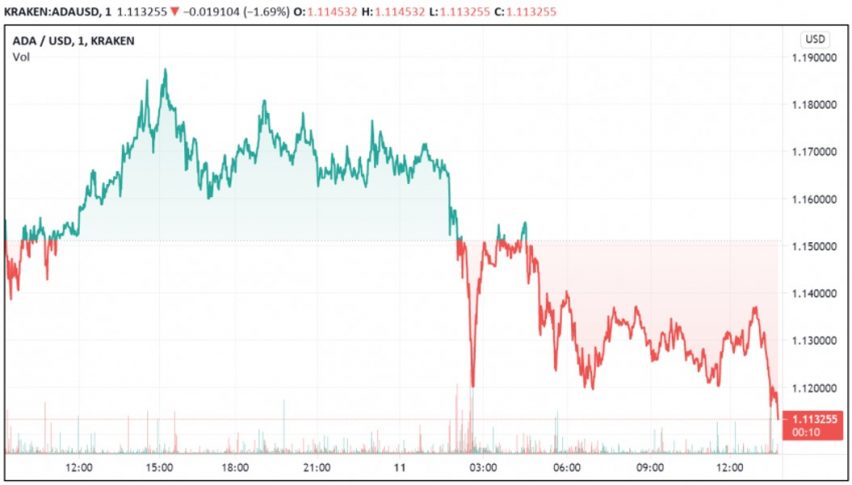 Investors Anticipate More Room For Bullishness in Cardano
Posted Thursday, March 11, 2021 by
Arslan Butt
• 1 min read
After a brief period of lull, Cardano's Ada is experiencing considerable volatility on the back of increasing interest in the cryptocurrency among investors, benefiting from the higher activity in the overall cryptocurrency market lately. At the time of writing, ADA is trading around 1.11.
Cardano is increasingly coming into focus among crypto traders, with a recent survey by Voyager Digital indicating that investors seem more bullish about Cardano than even Bitcoin. According to the Digital Asset Investor Sentiment Survey, 31.8% of investors are most bullish about Cardano, followed by 22.2% who are most bullish about the world's largest cryptocurrency, Bitcoin.
Even as the larger cryptos like Bitcoin and Ethereum hog the limelight, smaller cryptocurrencies like Cardano are garnering considerable attention, especially among new entrants into the world of cryptocurrency trading owing to their lower price and risk exposure. The recent bullishness in Cardano has propelled it to rank among the top five cryptocurrencies, with a market cap above $35 billion at press time.
Technicals point to a fresh rally in Ada, with prices likely to touch new ATH of up to 1.48 and possibly even further to 1.6 in the near future. Cardano is likely to face strong resistance at 1.33, beyond which the bullish rally could gather more strength.
On the downside, the level to watch out for when it comes to Ada price is at the support around 1.10, as indicators point to bullishness above it and a possible breakdown of value if the price falls below this level. A decline below 1.10 can take price down to around 0.88 and possibly even lower until 0.70 before bulls step in and reverse the trend.
The US dollar was higher and will end this week on the bullish track as traders awaited US inflation data later in the day, which might...
1 year ago