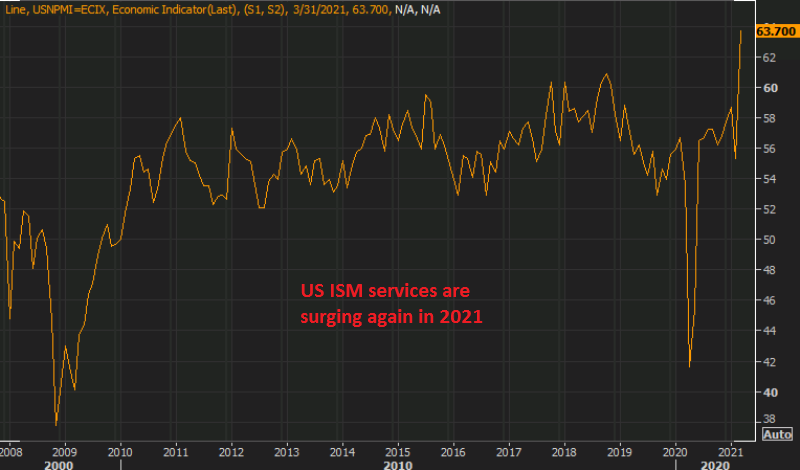 Services Activity Highest Ever in the US As Well Now
Manufacturing bounced back quite fast in the US, right after the reopening of the country in May-June last year and the manufacturing activity has continued to expand quite fast, now being at record levels. In Europe manufacturing has been surging as well, which might be explained by the new industries that are coming up, such as the renewable energy and the coronavirus industry to some degree.
But, now the service sector is surging as well. In contrary, services are still in recession in Europe. In the US though, ISM non-manufacturing surged further in March, jumping to 63.7 points, beating expectations and increasing to the highest level on record.
This shows that the US economy is faring much matter than the European one and the reason is obvious, the restrictions are hurting services immensely. So, no stopping for the US economy, which is staring to affect the USD positively and I expect the bullish momentum to continue as the FED is forced to accept the better fundamentals and higher inflation that's coming.
US ISM Services Index for March
March ISM non-manufacturing 63.7 points vs 59.0 expected
Record high (since 2008)
February non-manufacturing was was 55.3 points
New orders 67.2 points vs 51.9 prior
Prices paid 74.0 points vs 71.8 prior (highest since 2008)
Employment 57.2 points vs 52.7 prior
This is a sizzling print and an all-time high. New orders crushed estimates. The market reaction has been middling, perhaps because this was foreshadowed in some earlier strong March data. In any case, the US reopening is going well.
This report has only been out since 2008 but the ISM notes that using some of the sub-indexes, it could be estimated back to 1997 and this would still be the best reading.
More details:
backlog of orders 50.2 vs 55.2
new export orders 55.5 vs 57.6 prior
imports 50.7 vs 50.5 prior
supplier deliveries 61.0 vs 60.8 prior
inventory change 54.0 vs 58.9 prior
inventory sentiment 52.7 vs 54.3 prior
Comments in the report:
"Logistics delays and uncertainty are creating significant problems with suppliers and inventories. Also, [there are] cost concerns regarding inflated pricing due to logistics and shortages." (Accommodation & Food Services)
"Our four Southern California locations are finally open after being closed for 12 months. We are currently experiencing severe supply chain and distribution disruptions related to multiple factors. Reopening of the California and New York movie theater markets [is] creating a surge in demand; also, manufacturers and a distributor partner are dealing with labor shortages." (Arts, Entertainment & Recreation)
"Residential new home construction demand continues to outpace supply. Building material delays, discontinuations and shortages are beginning to develop. Shipping delays at the L.A. and Long Beach ports have contributed to longer lead times. Cold weather in Texas has hurt several component manufacturers for building materials. We have encountered the 'perfect storm' for building material shortages and price increases." (Construction)
"There is optimism in higher education that Fall 2021 will be near normal with vaccinated students, employees and staff returning to their roles on campus." (Educational Services)
"Local and national outlook remains positive, despite return-to-work concerns [and] work-from-home-related issues/purchases." (Finance & Insurance)
"Vaccination rates are rising, and coronavirus [COVID-19] infections are falling in the region, leading to optimistic outlooks and forecasts for increased business activity. Patient census numbers are trending upward, mainly due to a better ratio of patients seeking elective procedures versus COVID-19 hospitalizations. However, revenues are still soft, indicating that a full rebound in business activity has not yet been realized." (Health Care & Social Assistance)
"Resin/oil price increases are beginning to filter down to products that we procure. In addition to price increases, we are also seeing longer lead times as supply chains pivot to find cheaper supply options." (Information)
"Lack of chemicals and the recent freeze in Texas has delayed some orders and is creating a micro [price] increases for certain products. Suppliers are using the short-term shortage to their advantage to raise rates." (Mining)
"Higher levels of demand related to additional business reopening, and increased activity related to vaccination distribution." (Professional, Scientific & Technical Services)
"Business is picking up as mandated restrictions seem to be easing and spring is right around the corner." (Real Estate, Rental & Leasing)
"Outlook remains cautiously optimistic for the second half of the year as businesses continue to open up and projects come online." (Retail Trade)
"Overall, there are still delays in import shipments of goods, though [the situation has] slightly improved. The market forecast on ocean shipments and logistics is still the same for next quarter; improvements might be seen in Q3. COVID-19 issues continue to impact demand and supply across the globe, and the new stimulus aid is expected to help the economy and lead to an increase in retail spending over the next few months." (Wholesale Trade)
We are seeing large moves on any decent economic report, which indicates that markets are not certain about a hard or a soft global recessio
5 months ago