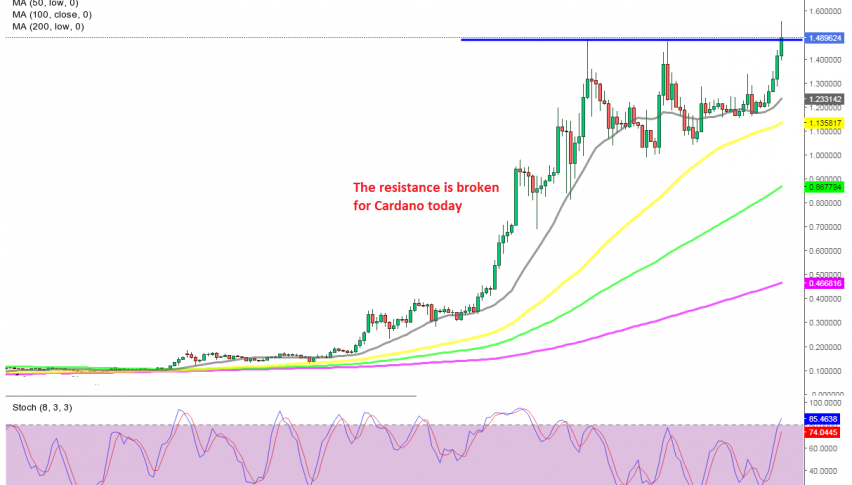 Cardano Breaks Above the Previous Resistance, As Cryptos Continue the Surge
The surge in cryptocurrencies doesn't seem to be ending anytime soon. They turned bullish last year after the initial knee jerk reaction right after breakout of coronavirus. They turned into safe havens eventually, with the economic and political instability growing across the globe.
Although, the surge started in Q4 of 2021 and it hasn't stopped since then. Cryptocurrencies have been making new highs continuously, with BITCOIN breaking above $64,000 today. ETHEREUM and LITECOIN are also on this strong bullish run, making record highs every week as well.
Cardano joined the party quite late, in January this year, but it has made of for the delay. ADA/USD surged from around $0.10 to $1.48 until the end of February, but it stalled there, forming a strong resistance area. For about a month, Cardano traded in a range, between $1.20 and $1.30 as we explained in our Cardano forecast for 2021, but the bullish momentum resumed again in the last few days and today Cardano buyers pushed above that resistance zone.
The price has retreated back down, but the resistance is now broken and new highs have been made, so the bullish trend continues for ADA/USD. If there is a pullback towards $1 coming, we might be tempted to golong down there. But, we will have to stay on the sidelines and watch the price action until then.