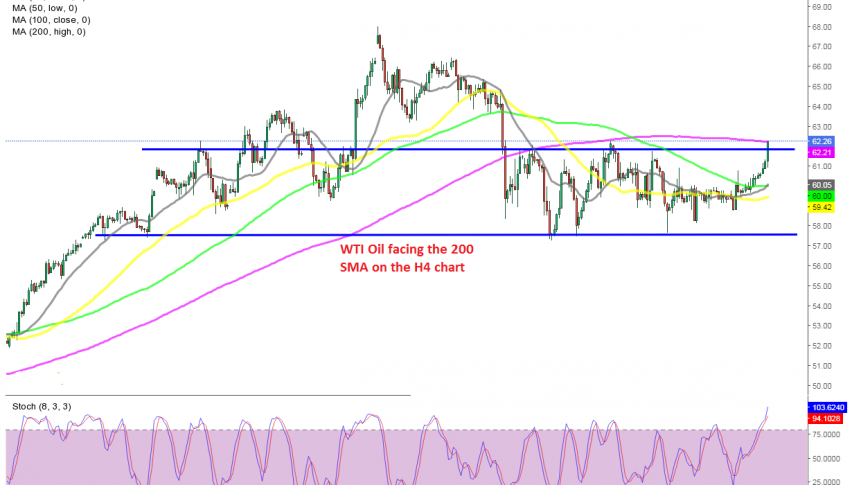 Crude Oil Bullish Again, Heading for the 200 SMA
Crude Oil has been trading sideways, bouncing up and down in a range between $57.50 and  $62, roughly speaking. We made some nice profit earlier this month in Oil, selling below the top of the range and booking profit near the bottom of the range.
Oil has been on a long term bullish trend, with OPEC+ keeping the production quotas for more than a year. They decided to wane them off until May, which was one of the reasons that Oil turned bearish last week, brining in the pips for us.
But, sellers couldn't push below the support zone, which was the first bullish signal. US WTI Oil reversed up from there and has been climbing higher since this week. The reopening of certain economies after the winter coronavirus restrictions has improved the sentiment for Oil, while the surge in the US economy in particular is adding to that.
Well, Oil just spiked another 80 pips higher while I was writing this article, reaching the 200 SMA (purple), which has acted as ultimate resistance for Oil so far. The positive earnings report form the US today are also helping, but the reason for the lates jump is the drawdown in US IEA inventories which were nearly 6 million barrels down.
So, Oil is back to bullish now, trying to make up its mind at the 200 SMA. This looks like a good place to go short on Oil, since it is the top of the monthly range, but the increase has picked up  pace and fundamentals are looking increasingly bullish. So we will wait for some time, if Oil breaks above the 200 SMA soon then we will stay out for the time being. If not, then we will decide later what to do, after following the price action.