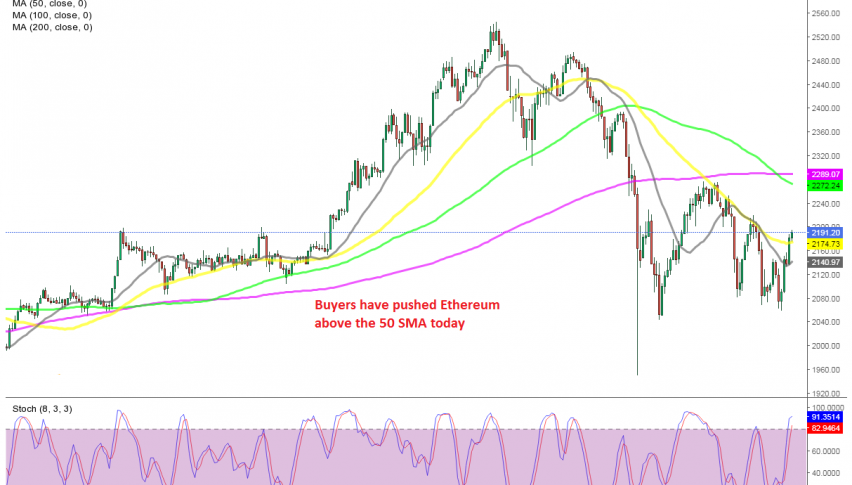 This Might Be the Bullish Reversal for Ethereum, As It Moves Above the 50 SMA
Cryptocurrencies have been under some pressure for the last several days. They started turning bearish over the weekend, following a really strong week last week, which took most cryptos to some new record highs.
Ethereum pusheed to $2,546 according to my broker, which is another milestone for this digital currency. Although, the reversal started last Wednesday and on Saturday we saw a flash crash, which took Ethereum to $1,950.
That's a nearly 25% decline in a couple of days, which had a number of factors playing out. The electrical blackout in parts of China and the comments form the US financial authorities on cryptos turned the sentiment negative in this market.
Ethereum Tring to Reverse After the Crash on Saturday
Although the crash stalled on Saturday the price and started pulling back up. Although that didn't last and the reversal ended as the 50 SMA (yellow), which has turned into resistance since then, pushing the price down.
We had a long term buy signal here, since we have a long term bullish bias for Ethereum, which we opened in February and closed it as buyers were failing at the 50 SMA for the second time. Although, today they have pushed above the 50 SMA, which is a sign that the trend might be changing to bullish now.
But, we will have to see if this moving average will turn into support now in ETHEREUM . If it doesn't, it means that buyers are taking the situation under control, otherwise the pressure will remain to the downside until the larger bullish trend resumes. But, I have a feeling that it is resuming now.