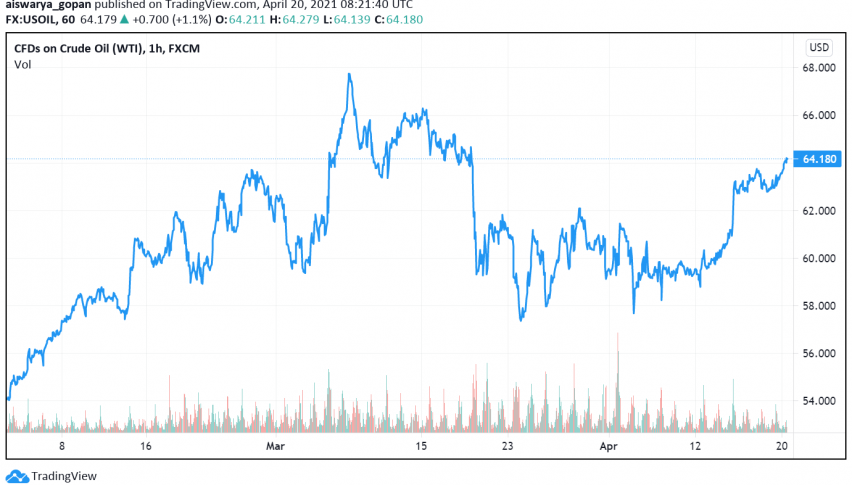 Weak Dollar, Expected Decline in US Inventories Support WTI Crude Oil's Rise
WTI crude oil is making gains in early trading on Tuesday as a weakness in the US dollar makes it more affordable and attractive for holders of other currencies to make purchases. At the time of writing, WTI crude oil is trading at around $64.18 per barrel.
A decline in US Treasury yields over the past few sessions has sent the dollar weaker against its major peers, as concerns about higher inflation during economic recovery recede from the markets. This has made some exchange rates more favorable, turning crude oil more affordable for some buyers and driven its demand higher, keeping prices supported.
Crude oil has received an additional boost over expectations that crude and distillate stockpiles across the US could have declined over the past week, raising hopes for improvement in oil demand across the world's largest energy consumer. On the supply side as well, oil finds some support over a disruption in Libya that could bring down its oil output by 280k bpd while Saudi Arabia's voluntary extension of production curbs has brought down its exports to an eight month low during February.
Gains in WTI oil, however, remain limited as the coronavirus pandemic remains under the spotlight. With fresh infections continuing to surge across India – a leading energy importer, while Europe remains affected by the third wave and partial lockdowns, oil consumption remains under pressure and keeps traders on edge for now.