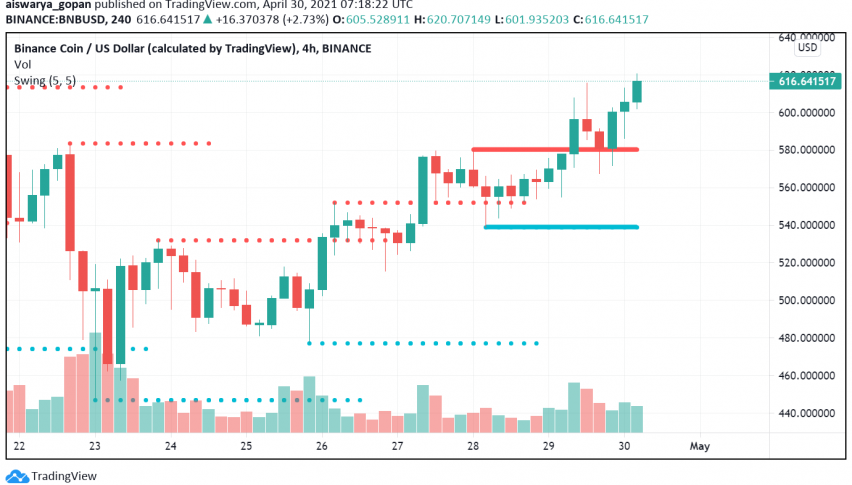 Will Binance Coin (BNB) Surge to a New ATH Above $700?
Despite the high levels of volatility and uncertainty plaguing the crypto market, Binance Coin (BNB) has been on a roll, witnessing a surge in its market cap taking it all the way to rank number three, just below majors Bitcoin and Ethereum. The value of BNB has doubled through April so far, driven by increasing interest among investors in the Binance Smart Chain (BSC) – the cryptocurrency exchange's very own blockchain network.
At the time of writing, BNB/USD is trading around. With Ethereum's blockchain network suffering from issues related to high congestion and transaction costs, several emerging projects in the DeFi space have chosen to go with the relatively newer BSC, with transaction volume surpassing Ethereum's and rising above 9 million towards late April.
The rise in Binance Coin's value, as we have predicted in our forecast, has also been fueled by increasing interest among whales to accumulate more BNB tokens recently. Over the past three weeks alone, there has been a 17% rise in the number of addresses holding anywhere between 10,000 and 1 million BNB tokens, with their value ranging from $60 million to $600 million.
On the technical front, BNB/USD now faces strong resistance at the $690 level, which needs to be overcome to drive further bullish momentum. Breaking past this level can easily set buyers on the path to take Binance Coin's price all the way up to a new ATH beyond $700 and possibly up to $760 as well.
On the other hand, in case buyers are unable to break past the resistance, selling pressure could set in and cause prices to fall all the way below the $600 level. The support level to watch following such a break is at $540.