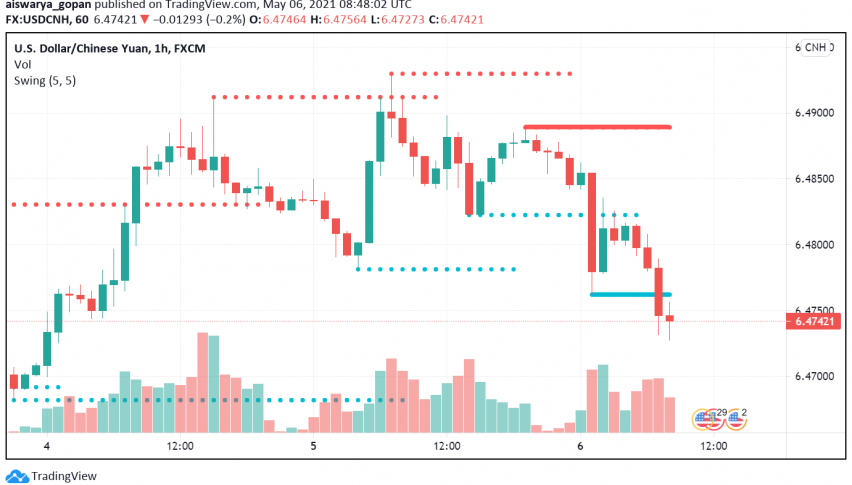 Chinese Yuan Dips to One-Week Low: US Dollar's Strength Dominates Moves
The Chinese yuan has dropped to the lowest levels seen since a week against the US dollar as Chinese markets reopened earlier today after the extended Labor Day holiday, weighed by a recent strengthening in the US currency over recent remarks by Treasury Secretary Yellen. At the time of writing, USD/CNH is trading at around 6.47.
The PBOC set the official midpoint rate of the yuan at 6.4895 against the dollar, 0.34% below the previous fix which happened last Friday before the long holiday period. This was the weakest level for the official midpoint rate seen since April 27.
Towards the end of this week as the focus shifts towards the US releasing its important non-farm payrolls report for the previous month. The upcoming NFP report will keep the US dollar in the spotlight for the remainder of the week and is likely to dictate price action in USD/CNH, keeping this pair bullish for now despite optimistic sentiment around China's economic recovery.
On Thursday, the positive sentiment around the travel sector in China rebounding over the long weekend holiday has failed to provide support to the Chinese yuan. However, traders remain hopeful that once the NFP report gets out of the way, China's strong recovery in domestic consumption and overall economic activity will help drive bearish moves in USD/CNH.
Going forward, the USD/CNH currency pair could also experience volatility on the developments related to US-China relations. During the previous session, US Trade Representative Katherine Tai announced plans to engage with Chinese officials to discuss the phase one trade deal and its implementation in the near future, which could bring back worries about tariffs into markets again.