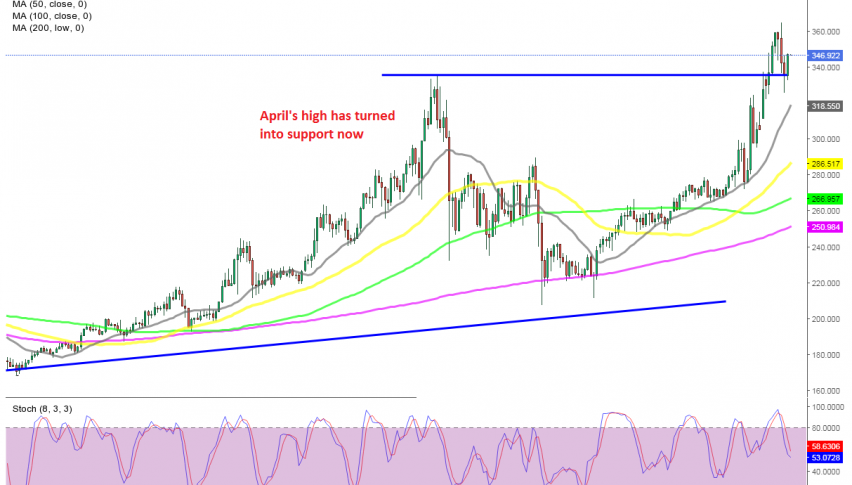 Nothing Stopping Litecoin, As Dips Keep Attracting Strong Buyers
While Bitcoin used to lead the rally in cryptocurrencies since it began, in recent months other cryptos have taken over, particularly since the latest pullback lower. BITCOIN is around $7,000 off the lows, while smaller cryptos continue to make new highs.
Ethereum has turned massively bullish, increasing around $1,500 in the last two weeks, while Litecoin is also making new highs almost every day recently. ETHEREUM is trading steady above $3,500, holding on to the gains it has made.
Litecoin pushed above $360 yesterday and after a quick pullback lower early today, Litecoin has reversed back up, heading for the previous highs now. The pullback ended up pretty quickly at the 50 SMA (yellow) on the H1 chart, showing that buyers are waiting for any retreat in order to enter this trade on the long side.
Buyers have returned after the retreat last night
On the H4 chart, we see that moving averages  have been doing a great job in providing support for LITECOIN , with the 20 SMA taking over in the last two weeks, suggesting strong buying pressure. Today's retreat took the price down, but the previous high from April turned into support.
So, Litecoin is bouncing back  up now and buyers remain in total control. Our long tern Litecoin signal closed inprofit for more than 13,000 pips yesterday, so we are following this crypto to spot another buying opportunity whenever it goes through a decent retrace down.