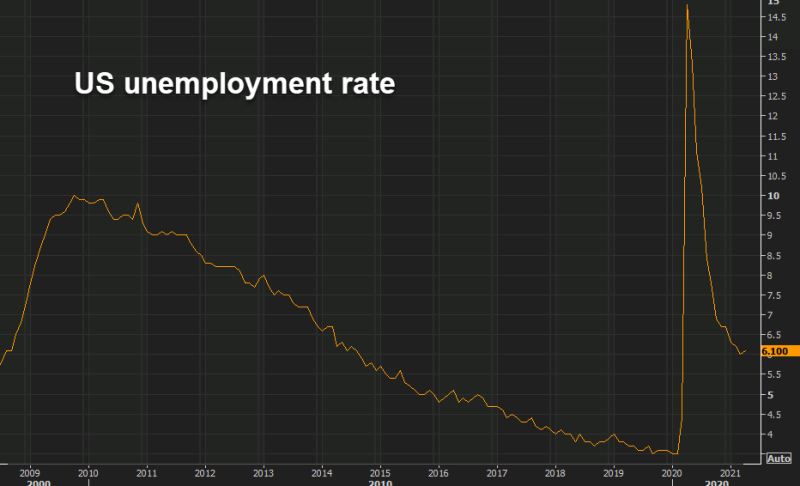 Markets Looking For A Reason to Sell the USD, As the FED Looks For Any Reason to Stay Loose
The US Dollar turned bearish in March last year, after the coronavirus broke out in the West and it still remains bearish. We saw a decent attempt to reverse the situation in the first three months of this year, but in April the decline resumed again.
In the first week of May we saw another attempt at turning the USD bullish, but on Friday it all went to waste as EUR/USD jumped off 1.20 and ended the day and the week at the highs, more than 150 pip higher.
The US economy is running pretty hot across most sectors, with manufacturing surging since Q4 of last year, while services have also been surging for several months now. Unemployment claims have fallen below 500K, while the consumer and investor sentiment are have improved as well.
The US is in a much better place than all other major economies, which leaves the FED in a good position But, they are trying to avoid any clear comment on tightening the monetary policy, delaying it as much as possible. Markets are trading the FED so the USD is following that sentiment. Yesterday's Non Farm Payrolls (NFP) report wasn't sop bad after all, as shown below.
April 2021 non-farm payrolls report:
April non-farm payrolls +266K vs +990K expected
March was 916K (revised to +770K)
Unemployment rate 6.1% vs 5.8% expected
March unemployment rate 6.0%
Participation rate 61.7% vs 61.6% expected (was 62.8% pre-pandemic)
March participation rate 61.5%
Underemployment rate 10.4% vs 10.7% prior
Average hourly earnings +0.7% m/m vs 0.0% expected
Average hourly earnings +0.3% y/y vs +4.2% expected
Average weekly hours 35.0 vs 34.9 expected
Two month net revision -78K
Change in private payrolls +218K vs +933K expected
Change in manufacturing payrolls -18K vs +54K expected
Long-term unemployed at 4.2m vs 4.2m prior
The employment-population ratio, at 57.9% vs 57.8% prior (61% before pandemic)
The revisions lower for March also played a part in the USD decline on Friday. April's expectations were much higher, but the actual number is not bad either. Comments said that "In April, notable job gains in leisure and hospitality, other services, and local government education were partially offset by losses in temporary help services and in couriers and messengers," the report said.
The other thing that looks strange is that gains in sectors like goods production with mining were low at +2K, construction at +3.8K and manufacturing actually declined at -18K. That's bizarre considering the boom in these sectors.
The reason behind the USD decline was that the market might be sensing the FED will
keep interest rates low
for longer. That erodes the rust in the USD. To say it simple, the market is thinking the Fed might be right about transitory inflation.
There's a bit of disbelief around this number. I wonder if this is a game-changer and shifts the conversation towards the Fed's baseline about rates. Anyway, this debate is going to play out repeatedly in the months ahead because it will take some time before there is anything close to clarity. The takeaway is that the Fed will stay lower for longer because of one bad non-farm payrolls report.
But I'm not sure about that, because the economy is only picking up speed and this might be a glitch in calculations as some people pointed out. So, this might as well be a good chance to buy the USD, expecting the data in the coming days/weeks to be quite positive, which would put pressure on the FED once again to hike rates.