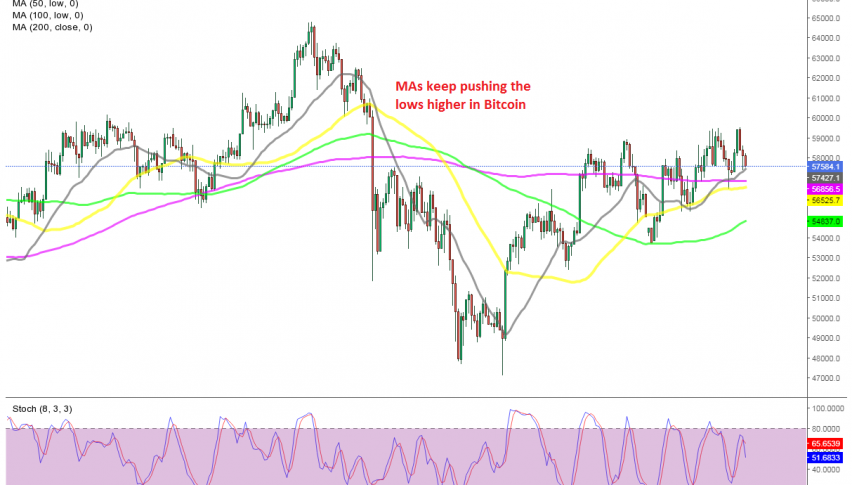 Bitcoin Continues to Grind Higher, But It's Not Leading the Crypto Market Anymore
The cryptocurrency market started surging in Q4 of last year, as they turned into safe havens, with all the uncertainty that has been going on around the world since early 2020. Bitcoin was leading the way for this market, surging pretty close to $65,000.
But, we saw a decent pullback by the middle of April, which sent Bitcoin retreating down to $47,000. The whole crypto market went through a brutal retreat, with come major cryptos losing more than half its value, like Ripple (XRP).
Although, the retreat ended in the last week of April and cryptios resumed the bullish trend once again. They have been moving higher, with some cryptos like ETHEREUM , Chainlink, Cardano etc, making new highs continuously.
Ethereum has broken above $4,000 while LITECOIN broke above $400. BITCOIN has been lagging since the middle of last month, making minimal gins in the last two weeks and failing to reach $60,000. Although, Bitcoin remains bullish nonetheless and it remains supported by moving averages.
The 20 SMA (gray) and the 50 SMA (yellow) in particular have been doing a great job as support indicators, jholding during the declines. So, they look like good places to buy, but we are remaining on the sidelines in Bitcoin now, since it is very slow to make gains, unlike some other cryptocurrencies.