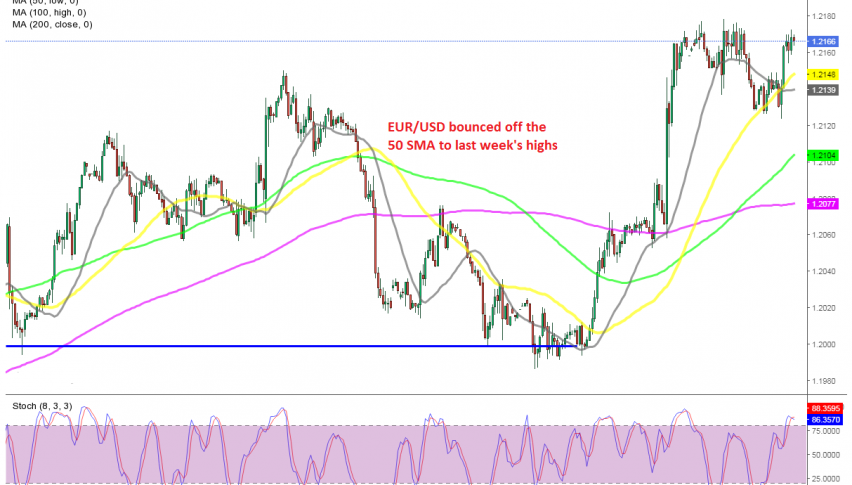 EUR/USD Bounces Off MAs Again Today, After the Jump in the Eurozone ZEW Economic Sentiment
The economic sentiment took a big dive last year in Europe, during the peak of the lockdowns, as most businesses closed. ZEW economic sentiment dived to -50 points, although kept improving after the reopening.
In Q4 we saw another weakness in the sentiment, as restrictions returned again, but this year this indicator has been improving and this month it jumped higher, beating expectations fair and square. EUR/USD retreated yesterday, after the surge last Friday, but today we saw another bounce off the moving averages on the H1 chart, after this report came out positive this morning.
So, the weak USD is keeping EUR/USD bullish and the data is improving as well in Europe, which means that the Euro will have more reasons to rally higher.
EUR/USD Live Chart
Latest data released by ZEW – 11 May 2021
Expectations 84.4 points vs 72.0 expected
April was 70.7 points
May ZEW survey current situation -40.1 points vs -41.6 expected
April current situation was -48.8 points
Eurozone expectations 84.0 points
Prior expectations were 66.3 points
While there is a slight beat in the headline reading, the strong jump in the expectations reading is what stands out in this report here. It reaffirms much optimism surrounding the vaccine rollout improvement, the resilience of the economy in Q1 and also perhaps a bit of a turn in the virus situation over the past few weeks in Germany.