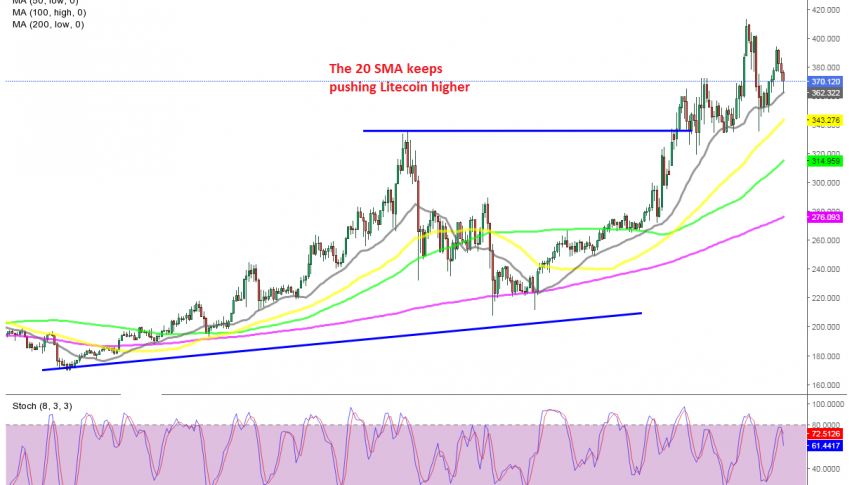 Litecoin Remains Supported by MAs, Ethereum Keeps Making New Highs
Litecoin and Ethereum have been two of the most bullish cryptocurrencies so far this month, as they keep pushing higher to new highs. The majority of the crypto market on the other hand, is in the middle of a consolidation.
Moving averages have been doing a great job supporting Litecoin during pullbacks and pushing it higher when the price turns bullish. The 200 SMA (purple) held as support during the deep retreat in April and Litecoin bounced off of it.
That moving average was pierced twice but that didn't count as a break since the candlesticks didn't close below it. The price kept pushing higher and Litecoin reached $420 on Monday. We saw a retreat yesterday, which sent the entire crypto market down.
But moving averages proved to be great support indicators, holding the decline yesterday and providing support today as well. This shows that Litecoin will likely turn bullis again soon since sellers looks quite weak and break above this week's highs.
The 20 SMA Keeps Pushing ETH/USD to New Highs
Buyers remain in charge in Ethereum
Ethereum on the other hand keeps marching higher, as it has turned the most bullish crypto now. In fact, Ethereum is leading the market at the moment, taking over Bitcoin. The 20 SMA (greay) is also doing a great job in providing support and pushing the price higher for Ethereum.
That moving average held as support on Monday and reversed the price up, while today sellers can't take the price down there. So buyers remain in total control in Ethereum, which is trading to new highs at $4,353 right now.