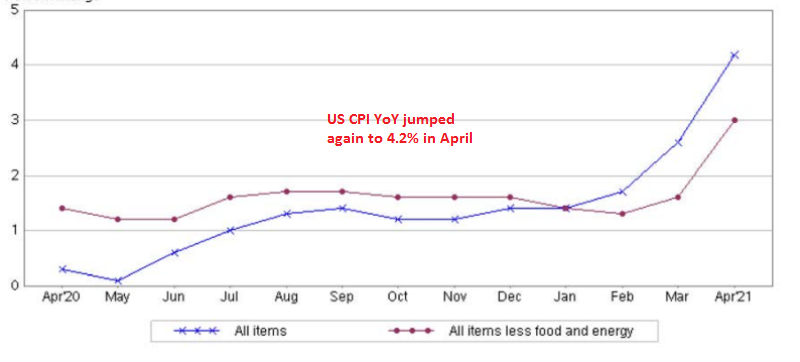 US Inflation Jumps in April, While Earnings Decline
The USD is quite sensitive to inflation right now, because the FED is holding it monetary policy subject to inflation. They played the numbers from March down in their last meeting as transitionary, but today's report showed another jump, which took the annualized CPI number to 4.2%.
This is a strong sign of sustainable inflation, although there were caveats and the FED will highlight those caveats. The earnings also declined, which turned the USD back down after the initial jump on higher CPI inflation.
US April 2021 consumer price index highlights:
April headline CPI YoY +4.2% vs +3.6% expected
March CPI was was +2.6%
April core CPI YoY ex. food and energy +3.0% vs +2.3% expected
March core CPI was +1.6%
April CPI MoM +0.8% vs +0.2% expected
March CPI MoM was +0.6%
Coe CPI MoM ex-food and energy +0.9% vs +0.3% expected (highest since 1982)
Wages Figures:
Real avg hourly earnings -3.7% vs +1.5% y/y prior
Real avg weekly earnings -1.4% vs +3.9% y/y prior
That's a big miss and the dollar is ripping higher. Everyone was expecting a bump because of base effects but this is truly a surprise and is going to test the FOMC resolve and the market's resolve to look through bottlenecks or temporary factors.
One big driver of the surprise was a 10.0% m/m rise in used car and truck prices, which is the largest in series history and single-handedly accounted for one-third of the rise. That made it a shockingly bad month to buy a car and is undoubtedly related to shortages.
It wasn't just that though as shelter rose 0.4%, transportation rose 2.9% (big jump in airfares at +10.2%), automotive insurance (2.5%), household furnishings (+0.9%) and apparel (0.3%) were factors.
Another factor for cars was the return of car rental companies. Normally they buy new cars but because of chip shortages, they haven't been able to find them. So they went out into the used markets and were price insensitive. Of course, big stimulus checks also arrived in March/April. The earnings fell since people are getting paid more to stay at home.