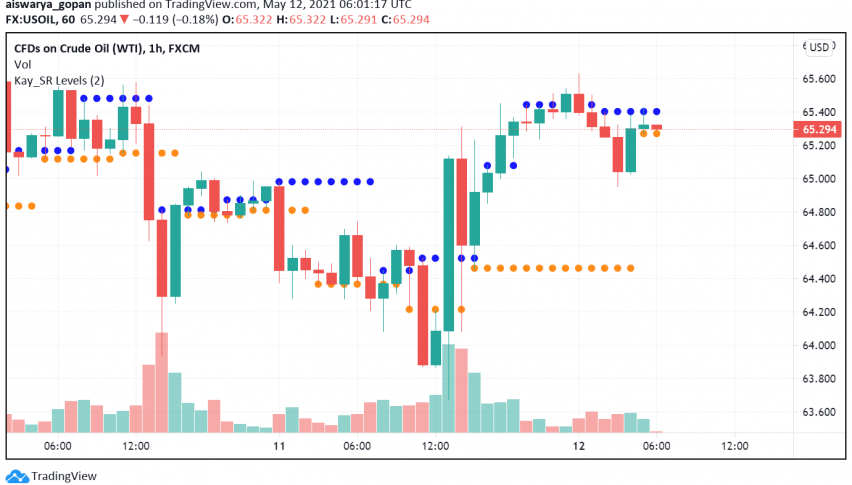 WTI Crude Oil Extends its Bullish Moves on Optimism About Demand Improvement
WTI crude oil is starting Wednesday on a bullish note, as the optimism from the previous session continues on the API report revealing a decline in US crude inventories over the past week. At the time of writing, WTI crude oil is trading at around $65.29 per barrel.
During the previous session, WTI oil prices rose by 36 cents after the API report indicated that crude stockpiles in the US declined by 2.5 million barrels in the week ending on May 7. Although the decline was smaller than the 2.8 million barrel drop forecast by economists, it served to support prices as it highlighted an improvement in oil demand across the world's largest energy consumer.
Crude oil prices are also enjoying support from the cyberattack that has shut down a key US fuel pipeline and driven fuel shortages across states. The shutdown has entered the sixth day and caused gasoline prices to surge close to $3 per gallon, the highest level seen in over six years.
In addition, there is a sense of optimism in oil markets after the OPEC kept its global oil demand expectations steady for the year, anticipating that an economic recovery worldwide will improve the demand for the commodity in the coming months. The leading oil producing nations of the world expect global oil demand to rise by 5.95 million bpd through 2021 even though the demand during Q2 was revised lower by 300k bpd owing to the ongoing coronavirus crisis in India – the world's fourth largest importer of crude oil.