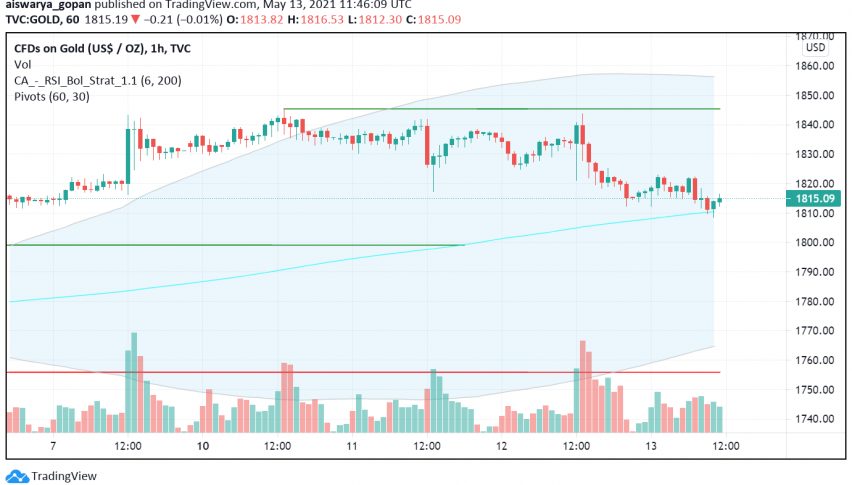 Gold Supported as Markets Convinced That Fed Won't React to Strong CPI Figures
Gold prices are on the rise, despite the renewed strength in US Treasury yields and in the US dollar as markets remain convinced that the Fed is likely to maintain its dovish stance for longer despite promising signs of economic recovery. At the time of writing, GOLD is trading at a little above $1,815.
Although US consumer prices posted the fastest pace of growth seen in almost 12 years, traders expect the US central bank to remain unmoved from its plan to extend its monetary easing measures for a longer period of time. In the recent past, Fed officials have repeatedly maintained that any price rise as the economic recovery gathers pace is likely to be temporary and would not require any intervention.
Fed Vice Chair Richard Clarida has already announced that the disappointing non-farm payrolls report for April and the strong CPI reading have not made any impact on the central bank's strategy for supporting the US economy. Previously, Fed Chair Jerome Powell had announced that the central bank will stay on course with its plans for monetary easing until employment and inflation return to pre-pandemic levels.
The expectation of an extended dovish outlook from the leading central bank is supporting the safe haven appeal of gold in global markets and keeping it bullish for now. However, gains in the yellow metal remain limited by the rise in US Treasury yields which increase the opportunity cost of holding non-yielding bullion and reduce its appeal among investors. Additionally, the rising bond yields have also infused a momentary strength in the US dollar, which shares a negative correlation with the precious metal.