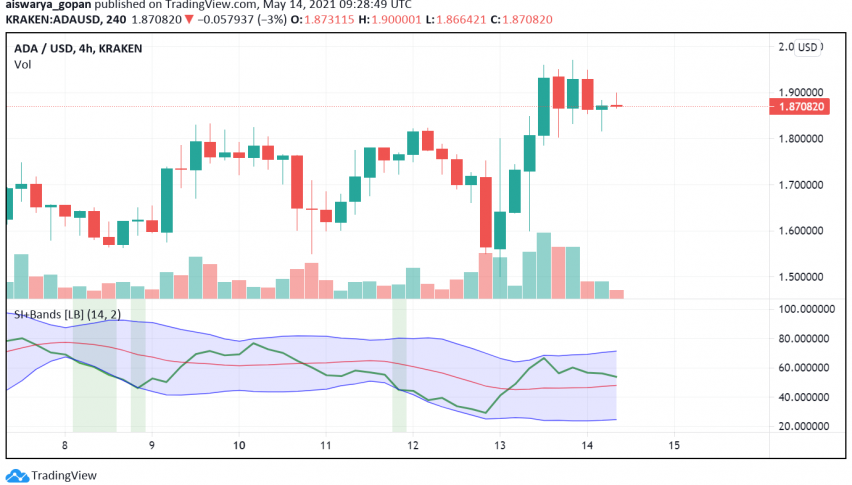 Is Cardano (ADA) Going to Benefit From Tesla's Bitcoin Suspension Plans?
Cardano (ADA) is trading strong after breaking above a new ATH during the previous session, with traders optimistic that it could catch the eye of Tesla CEO Elon Musk as he goes hunting in the market for energy efficient cryptocurrencies. At the time of writing, ADA/USD is trading around $1.87.
The bull run was triggered after Musk announced that Tesla would no longer accept payments in Bitcoin owing to its energy-intensive mining process being harmful to the environment. While this development caused the crypto market leader to crash, Tesla followed up the announcement with a statement that it was looking for alternatives that "use less than 1% of Bitcoin's energy per transaction."
This prompted the creator of Cardano, Charles Hoskinson to respond by pitching his blockchain network as a possible alternative to consider, prompting higher interest in ADA among traders and taking its price to a new ATH of $1.93. The Cardano Foundation also put out a tweet ideating that Cardano was an obvious match for Tesla's latest requirements as sustainbility was a common area of focus for both companies.
Key Levels to Watch
Although Cardano's price has eased down from its ATH level, technical analysis also indicates the possibility of further strengthening in its value in the near-term. The MACD and momentum indicators are pointing to a bullish bias on ADA's 4-hour price chart.
Going forward, the next level of interest sits just above $1.98 where buyers could encounter resistance. A break above this could take ADA/USD towards $2.20 but, on the other hand, if this level holds and buyers are unable to break past it, Cardano could see its price sliding all the way down to $1.62 where it could find some support.