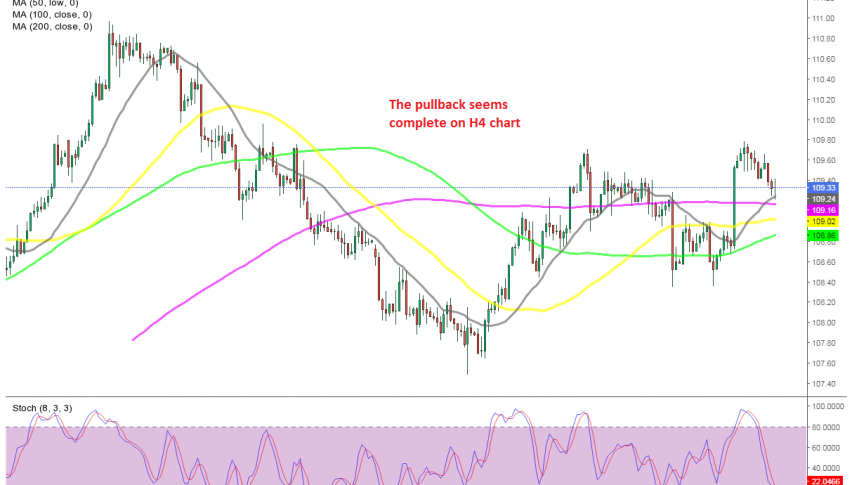 Buying the Pullback in USD/JPY, Despite the Soft US Retail Sales in April
The US economy is expanding rally fast across many sectors and the consumer sentiment has improved considerably as well. But, retail sales have remained volatile, turning from positive to negative every other month.
In the last two months of last year, they were negative, then they turned positive in January, but declined again in February. March was really strong, with a 9.8% jump in headline sales, while core sales increased by 8.4%.
This month sales were expected to increase by 1%, but headline sales fell flat at 0.0%, while core sales came at -0.8%. So, the volatility continues. But, despite the soft numbers for April we decided to go long on USD/JPY above the 200 SMA (purple), since the 20 SMA (gray) is providing support on the H4 chart already.
The Bank of Japan BOJ remains extremely accommodative and dovish, with chairman Kuroda pledging to keep the loose monetary policy, which has turned the JPY quite bearish. Below is the US retail sales report:
US April 2021 retail sales data
April advance retail sales 0.0% m/m vs +1.0% expected
March headline sales were +9.7% (revised to +10.7%)
Core retail sales ex. auto -0.8% vs +0.7% expected
Retail sales ex. auto and gas -0.8% vs +0.3% expected
Retail sales control group -1.5% vs -0.4% expected
Sales +51.2% from the same period a year ago vs +14.3% prior
Motor vehicle sales and parts +2.9% vs +15.1% m/m prior
Prior numbers and revisions
March retail sales ex auto and gas +8.2% (revised to +8.9%)
March retail sales control group +6.9%  (revised to 7.6%)
Don't ignore the revisions here. When you factor them in, the numbers are very close to expectations. There was a knee-jerk lower in the US dollar but much of that reversed when market participants saw the revisions.