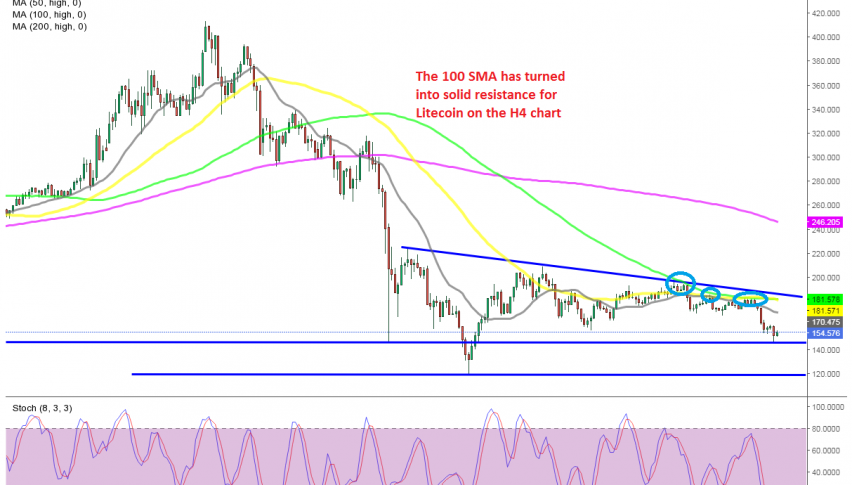 MAs Push Litecoin Down, But the First Support Holds. Reversing Higher Soon?
Litecoin was having a great time this year as most of the cryptos did, increasing nearly 4 times in value to $416 by March 10. But, the crash came during the middle of lat month and Litecoin lost all of this year's gains. It tried to bounce higher, but sellers kept pushing the highs lower, so the pressure remains to the downside.
LITECOIN is having a rough week together with other cryptos and particularly Bitcoin. It's down another 7.3% today to $31,900 after a similar fall yesterday. The Miami bitcoin conference was cringey and the US government stealing back the bitcoin from the Colonial pipeline hackers is a reminder about security and confiscation risks.
There's a bit of a civil war ongoing within crypto as well between investment tokens like BT/USD and those with more utility, like ether. Neither are winning today though with Ethereum which was leading the market last week, down 10% as well.
In Litecoin, the H4 chart doesn't look good, with the 100 SMA (green) in particular turning into solid resistance at the top. The 50 SMA has also joined in now, making hard for buyers to push higher. The price dived nearly $40 lower today after failing at MAs, but at least the first support at around $145 held and now the price is crawling back up. We are bullish already on this crypto, so we are holding on to our trade, hoping that the trend will change after reaching the first support level.
The trading range is getting extremely tight for Shiba Inu and Dogecoin, suggesting a breakout
8 hours ago