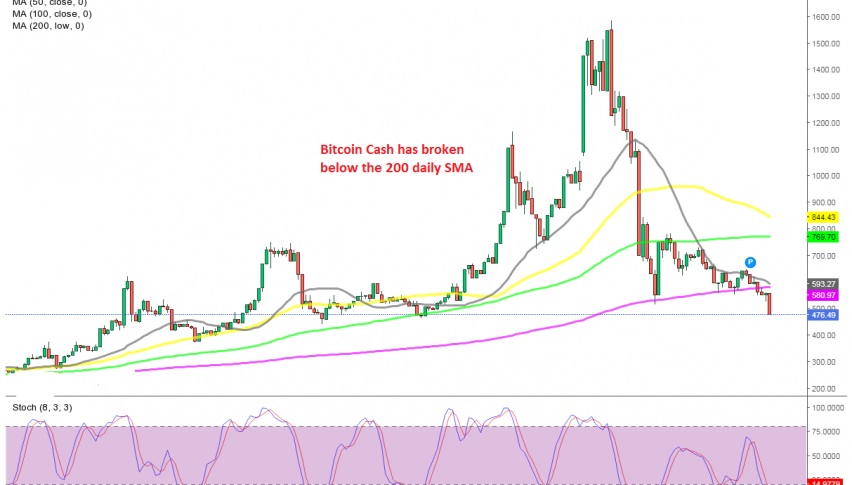 Bitcoin Cash (BCH) Leads the Decline for Cryptos, But There's Support Down Below
Cryptocurrencies have resumed their decline once again, as the Chinese authorities continue the crackdown on Bitcoin mining. The two Bitcoin forks, Bitcoin Cash BCH and Bitcoin SV, are also suffering most from this, as they continue to lead the fall in the crypto market.
In May, a joint statement published on the People's Bank of China's WeChat account, and banking and internet industry associations said that financial institutions should not accept cryptocurrencies as payment or offer services related to them.
But China's crackdown on cryptocurrency mining seems to be behind the fresh weakness. A report by news agency Reuters suggests that Chinese authorities have now cracked down on crypto mining activities in the southwest province of Sichuan. This means the regions of Sichuan and Inner Mongolia have both ordered the shutting down of all mining operations, which has forced miners to pack up and go elsewhere.
The 50 and 100 SMAs are waiting to provide support on the weekly chart
Bitcoin Cash (BCH) was finding solid support at the 200 SMA (purple) on the daily chart, while at the top, the 20 SMA (gray) was pushing the highs lower for this crypto. But, the price slipped below the 200 SMA over the weekend, and today it tumbled further down, confirming the break. This is a bad sign for BCH/USD buyers, since there are no more indicators to provide support on this timeframe.
Although, if we switch to the weekly chart, we see that there is still hope. The 50 SMA (yellow) and particularly the 100 SMA (green), which has provided resistance before, should provide some support for Bitcoin Cash now. The stochastic indicator is also oversold and the cryptos have shown before that they can rebound after such retreats. So, we are getting ready to buy at the 100 weekly SMA, at around $420.