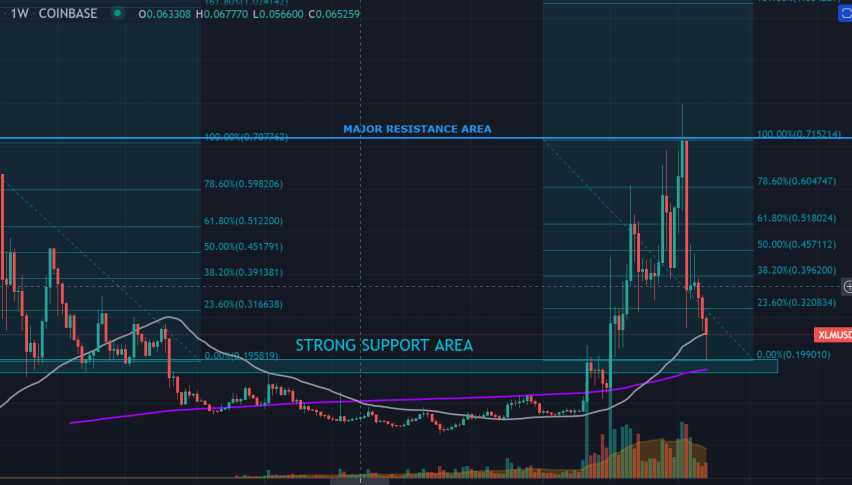 A Possible Dead Cat Bounce for Stellar (XLM)?
Posted Tuesday, June 29, 2021 by
Sophia Cruz
• 2 min read
Stellar (XLM) had a dismal month in June, as it fell sharply. But fast and hard crashes are usually followed by technical rebounds from support areas – usually referred to as the "dead cat bounce." Now, the question is when, where and how high could this bounce be?
Technical Price Analysis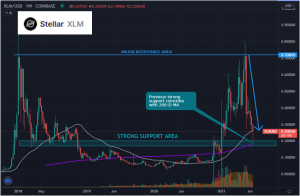 Stellar Weekly Time frame
DOES HISTORY REPEAT ITSELF?
Looking at the bigger picture first, the most striking observation from Stellar's price movement was the rejection of the price when it reached a previous major resistance level in the 0.70-0.80 area. Coincidentally, this is the same price level at which it sold off similarly three years ago, in 2018.
It is currently in a downtrend from those highs, having fallen almost 75% in a few weeks. It is worthy of note that it bounced from a previous strong support area at the 0.20 level, which is the same support level from which the price also bounced three times in 2018, before falling further. This major support also coincides with the 200-D Moving average in the weekly time frame, which strengthens the case that the 0.20 level is critical. If it falls below this level, you can expect the price to fall further, to 0.10. Although looking at the historical price action, it will most probably bounce in this area a few more times.
Trade Idea: Dead Cat Bounce
It would seem that Stellar's price movements are mimicking those of 2018. After a sharp sell-down from all-time highs, until the psychological support area of 0.20, the price bounced to the 50% fibonacci level, then fell back to its support, before bouncing again, but only until the 23.6% fibonacci level. Each bounce got smaller and smaller, before eventually breaking down the support – a dead cat bounce.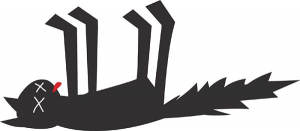 A "dead cat bounce" is a rebound price pattern that usually occurs after a sharp drop in the price. Sellers are exhausted and there is no more selling supply coming into the market. The price then rises as demand for the asset overtakes the selling. This is usually characterized by brief, short rallies to technical resistance areas. A "dead cat bounce" is different than a reversal pattern because eventually this rally would be unsustainable and the price would continue its long-term downward trend, hence the term "dead cat".
Fast forward, 2021, one possible trade thesis is that XLM will repeat this "dead cat bounce".
Buy as near as possible to the support area. Buy in small tranches and exit immediately or take profits near the 0.39 to 0.46 levels, which are the 38.2% to 50.0% fibonacci retracement levels. Do not hold onto these types of trading positions, as "dead cat bounces" are short lived. Remember that this is just a short-term trade, so manage your risk by allocating only 0.5% to 1.0% of your portfolio to this trade.