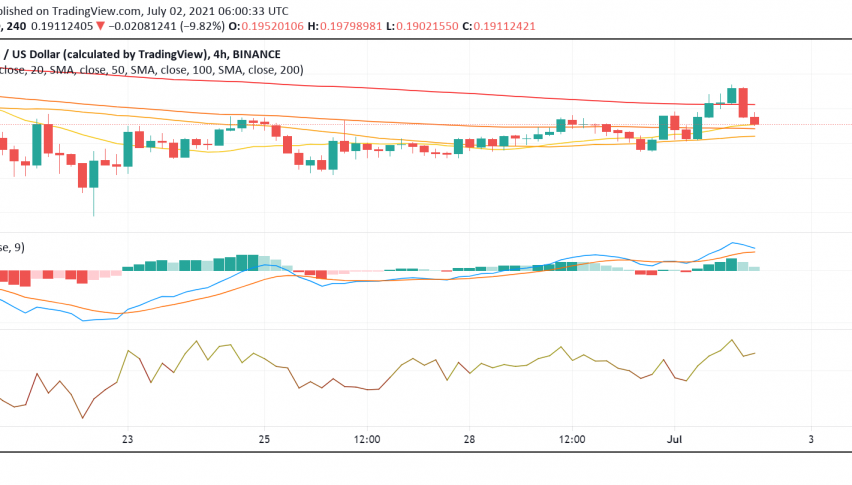 Hedera Hashgraph (HBAR) Rises Even as Other Cryptos Trade Bearish
Although most of the leading cryptocurrencies are trading bearish into Friday, one of the newer players in the game – Hedera Hashgraph (HBAR) is seeing an uptick in its value. At the time of writing, HBAR/USD is trading at around $0.19, up by almost 3% over the past 24 hours.
Powering the rise in HBAR's value could be the announcement about NBA player Spencer Dinwiddie's token app Calaxy raising funding worth $7.5 million during the previous session. A combination of the words "creator" and "galaxy", the Calaxy App leverages the power of the Hedera Hashgraph network for social media use, to become a platform to drive engagement between influencers and their fans.
In addition, Hedera Hashgraph also provides the backbone for the ARIA Exchange – a new NFT exchange launched by the ARIA Network earlier this week. The exchange offers users access to the concept of "living NFTs", which marketers can leverage to engage with NFT buyers by adding exclusive and regularly updated content over an extended period of time, all in a carbon-negative manner without harming the planet.
Hedera stands apart from its competition, offering the guarantee of no forks, which makes it a far more stable platform from a developer's perspective. In addition, its technology offers far higher transaction speeds than those of the existing players, and according to data, the Hedera Hashgraph network has processed more transactions in the 18 months since its launch than the Ethereum network has till date.
Key Levels to Watch
Taking a look at the H4 chart of HBAR/USD, we can see that most of the moving averages as well as leading technical indicators MACD and momentum are offering a bullish bias, suggesting this is a good time to get in on a buy trade. The price is sitting right below a key resistance level at $0.20 and a break above this can open the door to further upside in Hedera Hashgraph.
Once this level is broken, increasing buying pressure can take HBAR higher to test resistance at $0.23 and then at $0.28 before it overcomes the key $0.30 level.