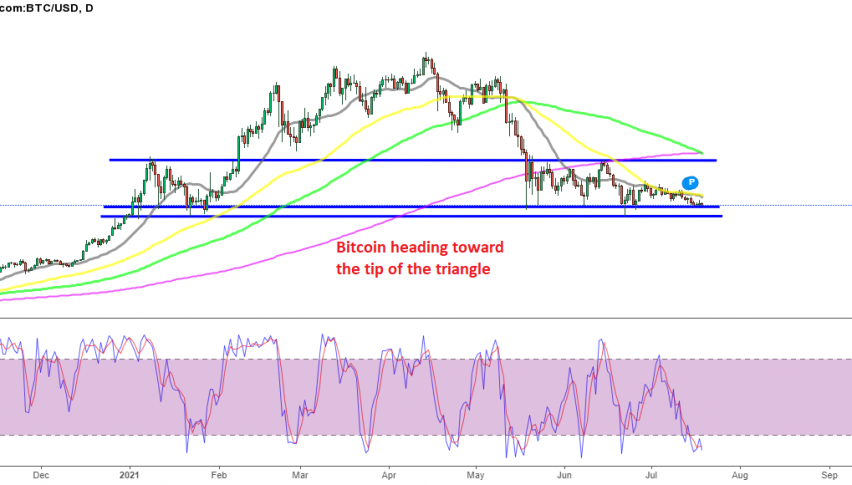 Not A Good Sign for Bitcoin, Which is Still Sticking at $31,000
Most major cryptocurrencies are forming a triangle pattern on the H4 and daily charts. They have been making lower highs since the crash in May, while forming a support area at the bottom, which has been holding for two months, for most main cryptos.
In BITCOIN, the support zone comes around the $30,000 level, stretching down from $29,000 to $31,000. This support area has been holding for two months, which is a positive sign, showing that crypto sellers are finding it hard to push below this support zone.
On the other hand, the highs during the bounces have been getting lower, suggesting that the selling pressure is not over. The declining highs, and the support zone around the horizontal level at $30,000, is forming a triangle, which points to a breakout soon.
The breakout is likely to go to the downside, since  we are not seeing any signs that buyers want to take control any time soon. Bitcoin has been sticking to the top of the support zone, at  around $31,000, but the triangle is getting narrower by the hour, so the breakout is certainly coming.
The stochastic indicator is oversold on the daily chart, but the 50 daily SMA (yellow) keeps pushing the BTC/USD down. So, I think that the breakout is coming, but I don't expect Bitcoin to fall too much, or vice versa, since the uncertainty is enormous, with the ongoing war against cryptos.
So, we will probably see $30,000 soon, or even $29,000, but that will be it. If the decline stops there, after breaking out of the triangle, then we might take a small long, but we will be careful. Coinbase said last week that the Bank of America has approved trading of Bitcoin futures for some clients. But we didn't see much of a bounce, which is another sign of weakness.