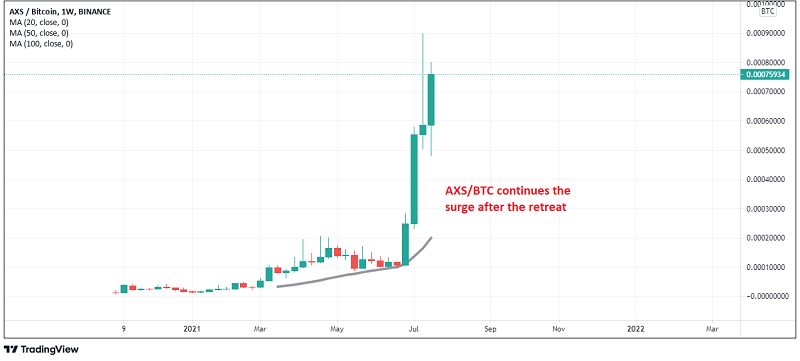 Booking Profit in Axie Infinity AXS, the Only Bullish Crypto in July
While the entire cryptocurrency market turned bearish in May and continued to retreat lower, there was one new cryptocurrency that turned bullish, particularly this month. This new digital token is the Axie Infinity token, AXS, which turned bullish at the end of June and gained nearly 1,000% in value  in just two weeks, when AXS/USD surged from $3.50 to almost $30.
Axie Infinity is an Ethereum NFT-based game, which has become increasingly popular in the gaming and Axie Infinity Shards. AXS is the token used for transactions within the game platform, which is similar to Pokemon. Players can gain or farm utility tokens, called "Smooth Love Potion (SLP)", by simply playing the game, although, instead of the game making AXS popular, I think that it's the token that is making the game popular.
Axie Infinity Technical Analysis – AXS Daily Chart
AXS/USD heading for the highs again
AXS/USD has made a parabolic move in July, getting pretty close to $30 by the middle of the month. Although, it retreated down in the third week, ending up at $14.05. The price broke below the 20 SMA (gray) on the daily chart briefly, but it reversed back up on Wednesday.
Buyers pushed AXS/USD up to $26, so it seems like they are back in control now, after this crypto gained around 85% from the bottom of the pullback at $14 until $26. All other cryptocurrencies gained far less during this latest bounce in this market, with DOGE, which is one of the most bullish cryptos after AXS, gaining around 31%.
AXS/BTC Daily Chart Analysis
AXS/BTC bouncing off the 20 daily SMA
AXS/BTC also surged this month, since Axie was moving higher while Bitcoin was moving lower. This sort of price action in both cryptocurrencies fueled the bullish trend in this crypto pair, which is why we decided to buy AXS/BTC instead of AXS/USD.
Before buying, we waited for the retrace, which ended at 0.00048 on Wednesday. That level was the high earlier this month, and it held as resistance for a couple of days, but it turned into support immediately after it was broken, showing that it was a meaningful level. That's were the 20 SMA (gray) came on the daily chart, so the reversal took place down there. Now, buyers are in total control here as well, so AXS/USD has resumed the bullish trend, and we booked profit on our signal yesterday.