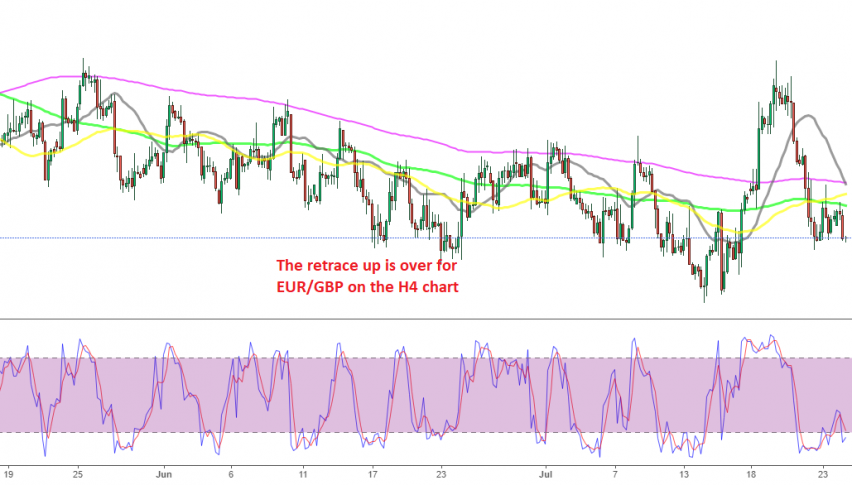 Looking to Sell EUR/GBP, As It Resumes the Bearish Trend
EUR/GBP has been on a bearish trend since the beginning of the year, with the GBP feeling slightly better than the Euro throughout this time, which we witnessed to day as well, with EUR/USD starting to reverse down, while GBP/USD still remains bullish.
During this time, the 200 SMA (purple) has been doing a great job providing resistance at the top on the H4 chart, but earlier this month this moving average was broken, during the retrace higher. Although, the price returned back down and after another attempt today, which failed at the 100 SMA (green), EUR/GBP has turned bearish again.
So, we are looking to open another sell signal in this forex pair after many such trades in the previous months for us, since sellers are in control again. The German Ifo business expectations missed expectations, and declined this month, which is weighing on the Euro now.
Latest data released by Ifo – 26 July 2021
July Ifo business climate index 100.8 vs 102.1 expected
Prior 101.8; revised to 101.7
Expectations 101.2 vs 103.3 expected
Prior 104.0; revised to 103.7
Current assessment 100.4 vs 101.6 expected
Prior 99.6; revised to 99.7
Slight delay in the release by the source. A bit of a miss across the board and that is starting to highlight some risks to economic expectations/optimism in the euro area as the summer progresses; that being tied to the virus situation of course. Also, just be mindful that supply disruptions and higher cost inflation are also factors that could weigh on business optimism in the months ahead as they persist for longer.
Remarks by Ifo economist, Klaus Wohlrabe
Supply problems weigh on both industry and retail
64% of industrial firms complain of shortage of materials, prices risen massively
60% of wholesalers, 42.5% of retailers report shortages
German industry cannot produce as much as they would like
Considering that the virus situation globally is still in a quagmire and though demand conditions have improved in Europe, the supply chain disruption is something that won't be fixed any time soon. As such, the imbalance will persist for many more months at least.
Taking that into consideration alongside higher cost inflation, that will pressure economic/business conditions even more than it has over the past few months.
Ifo also warns that the consumer and tourism sectors are worried about another virus wave and with the spread of the delta variant and 
booster shots a key question in the months ahead
, it is a risk worth taking note in case it causes market sentiment to sour.
EUR/GBP has been quite bearish recently, as the BOE has already has hiked interest rates many time and we decided to sell this pair again
3 days ago