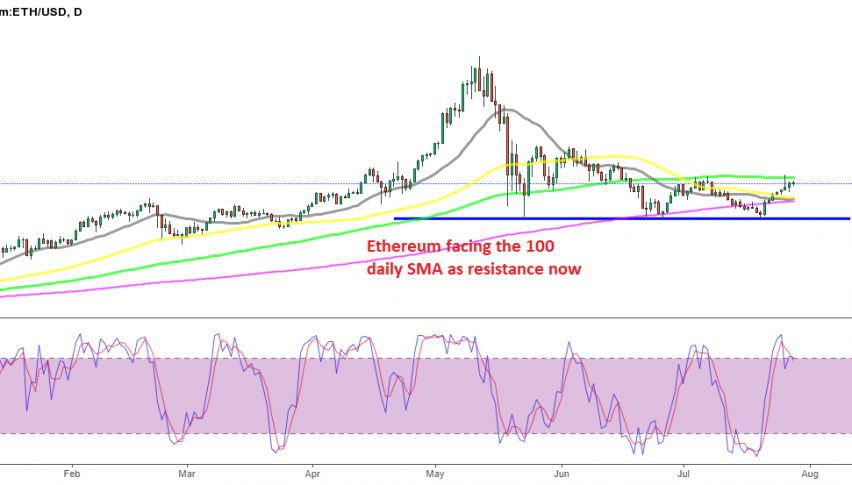 Decisive Time for Cryptos, as Ethereum and Litecoin Face Major Resistance Just Above
Cryptocurrencies have been bullish for about a week, since the sudden reversal last Wednesday. In the days before the reversal, the situation was really bearish, as sellers kept pushing down below June's lows for most cryptos, indicating that the sellers were in total control.
But the reversal happened back then, and cryptocurrencies have been bullish since last Wednesday. Yesterday, in the early hours of the morning, we saw a pullback down, after BITCOIN failed to push above the resistance zone over $40,000, which caused it to reverse back down.
Ethereum bounced off the support area around $1,720-$1,750, which has been the low in ETH/USD since late May. The price moved above all moving averages and buyers briefly pushed above the 100 SMA (green), but it pulled back down and the daily candlestick looked like an upside-down pin, which is a bearish reversing signal after the bullish period.
But we didn't see a reversal in the following sessions, which shows that the buying pressure still remains strong, after the 2-month decline. Now, buyers are facing the 100 SMA again, which is the ultimate resistance that is stopping Ethereum from resuming the larger bullish trend. This is the big test for ETHEREUM; if it pushes above it, the larger bullish trend will be back on, if it stays below it, the uncertainty will continue.
LTC/USD facing the 50 daily SMA above
LITECOIN is facing a similar situation as well, although the LTC/USD has been more dovish than Ethereum over the last two months, so it is now facing the 50 SMA (yellow) on the daily chart. Buyers pushed above the 50 SMA (gray) which had been pushing this cryptocurrency down since early June, although now, the 50 SMA is acting as resistance, after rejecting the price on Monday.
So, this is the big test for LTC/USD at $140, after bouncing off the $100-$105 support. RIPPLE coin has made a breakout today, as my colleague highlighted earlier, which is a strong sign that cryptocurrencies will push above these resistance indicators and resume the big bullish trend. I don't like buying breakouts, but will do so if the breakout happens and we see a pullback at the MAs – hopefully they will hold.