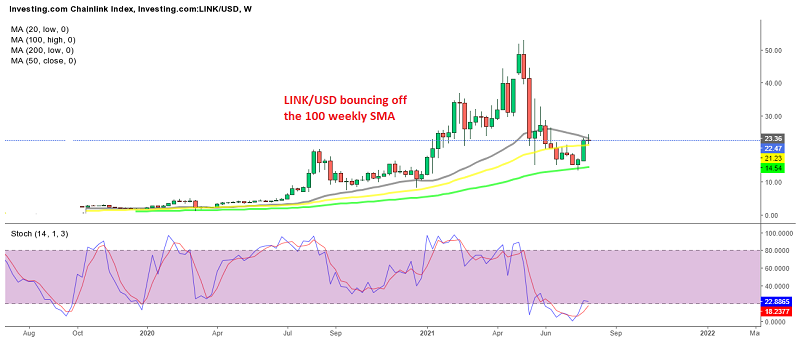 Chainlink LINK/USD Showing Bullish Signs, While Facing Obstacles Above on the Weekly Chart
Cryptocurrencies have made quite a reversal in the last two weeks, after being bearish for more than two months, but so far, they are showing signs of weakness or exhaustion this week, after the last push over the weekend. Bitcoin pushed above $42,000, but has retreated more than $4,000 lower in the last two days. So, is this the end of the bullish run for cryptos?
Chainlink Analysis – Link /USD Technical Charts
Judging by the pace of the decline in the last two days, we can't say that there is strong selling pressure. Looking at the weekly Chainlink chart shown above, we can see that this digital coin lost more than 80% during the crash, but the decline stopped right at the 100 SMA (green), at around $13.50. For LINK/USD, the price bounced off that moving average two weeks ago, and it has gained over $10 during this time.
The 20 SMA has been pushing Chainlink higher for two weeks
But, the 20 SMA (gray) has been holding as resistance at the top, not allowing buyers to push further up.  The price has been hanging around here in the last two days, although we haven't seen a reversal down, while Bitcoin has retreated around $4,500 lower. This shows that buyers are not allowing themselves to be discouraged and are simply waiting for the next bullish wave in the crypto market.
Changing to the H4 chart, we see that the uptrend of the last two weeks is still intact. Chainlink buyers have been pushing higher over this period, with the 20 SMA (gray) acting as support on this time-frame, after every retrace lower. Right now, we are in one of those retracing periods, and LINK/USD is trading just above the 20 SMA.
So, chances are that the price will reverse back up, and Chainlink will bounce off that moving average once it catches up with the price. So, we are following the price action here, hoping to get a trade on the bullish side, once the bullish momentum in the crypto market returns.