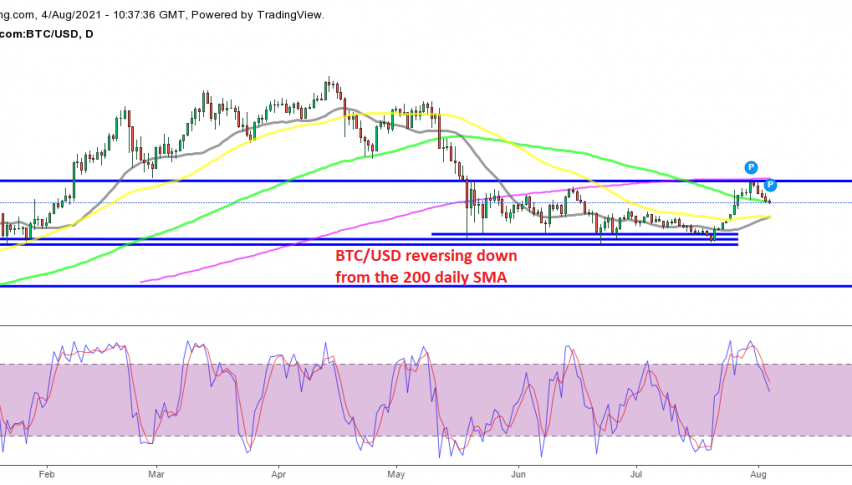 Is the Crypto Market Resuming the Decline This Week, After Bitcoin Reached the Top of the Range Last Week?
The cryptocurrency market is quite volatile, as we have witnessed in the past year, and it continues to make some large moves, worth thousands of pips. But, the strong bearish momentum of the previous two months, which lasted until the middle of July, seems to have ended now.
Bitcoin bounced from below $30,000, surging around $13,000 to above $42,000, and reaching the top of the range, where it has been trading since the middle of May. Although, for about a month, from the middle of June, sellers were in total control and Bitcoin was only declining, so the $13,000 climb gave the impression that the situation was changing, and the bearish trend was finally over.
BTC/USD pushed above the 100 SMA (green) on the daily chart, after finding resistance at $40,000, which held for some time. The push higher continued, but the climb ended at the top of the range, where Bitcoin buyers met the 200 SMA (purple) on the daily chart.
The price started to reverse down on Saturday last week. It seemed like a slow retrace at first, but the downtrend continued, and now it seems like it is turning into a bearish trend again, which points to the bottom of the range at around $30,000. So, the range trading continues for Bitcoin, which is now heading from the top down, which means that there is around $8,000 to be made on this decline.
However, after the strong surge in the previous two weeks, the BITCOIN sellers seem careful now. The 100 SM (green) is getting broken right now, but the 50 SMA (yellow) stands below at around $35,000, where the 20 SMA (gray) is also standing now, so that might be the bouncing area, since it is right in the middle of the range.
But first, let's see if Bitcoin sellers can push down there. We are not selling this decline because the selling pressure is not as strong as in the previous two months – we will wait to see where the decline ends, so we can buy the reversal up. You can follow that trade on our forex signals page, where we display all our crypto trades.