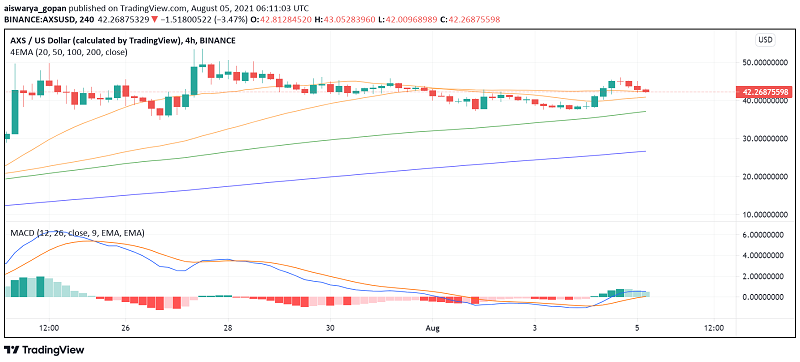 Axie Infinity Approaches 1m Daily Active Players, Earns Higher Revenues Than Big Names in July
Through the month of July, while the crypto market continued to be weighed down by increasing regulatory scrutiny which kept leading players trading under pressure, one project had a runaway success. Play-to-earn Axie Infinity earned $207 million in revenue during July, higher than the biggest names among cryptocurrencies as well as decentralized exchanges.
Not only did it earn higher revenue than established players in the space, but it also generated four times higher trading volume than any other NFT project. Data released by Token Terminal shows that Axie Infinity was the single highest earning protocol last month.
Axi Infinity's July revenues were higher than those earned by Bitcoin, Ethereum and Binance Smart Chain. In addition, it even overtook leading DeFi platforms Uniswap, PancakeSwap as well as Aave, despite the fact that DeFi was witnessing a boom through the previous month unlike digital currencies.
This is the first time an NFT product has risen above CryptoPunks and even NBA Top Shot in terms of trading volume. AXS is seeing its daily active users closing in on the key 1 million mark as more and more players sign up to play and earn. The growing popularity of Axie Infinity has boost the value of not only its governance token AXS but has also driven up the value of small love potions (SLP) – a token that is used to reward players within the game when they complete battles successfully.
Key Levels to Watch
At the time of writing, AXS/USD is trading at around $42.26, up by over 9% in the past 24 hours. Moving averages and the MACD indicator on the 4-hour chart of the pair are flashing strong buy signals at the moment; however, the momentum indicator points to some sellers looming as well.
The Axie Infinity token's price is holding just above the pivot point at $42.09 and buyers can take the price higher towards $49.18 where they will encounter the first resistance before breaking above the key $50 level. They can then face resistance once again at the $60.60 mark as buying interest builds up further, as investors cheer the game reaching a milestone of garnering 1 million daily active users soon.