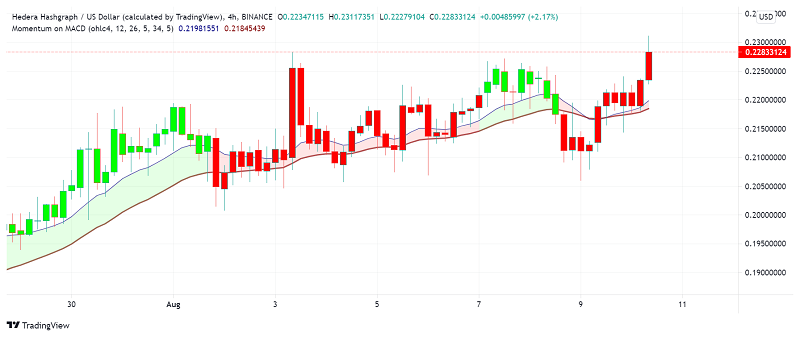 How is Hedera Hashgraph (HBAR) Reacting to the Bullish Mood?
Hedera Hashgraph's HBAR has been seeing relatively muted action despite the strong rally underway in the crypto market lately; however, it looks like it could have had a bit of a delayed start and seems to be playing catch-up with its peers. At the time of writing, HBAR/USD is trading at around $0.228, up by over 7% in the last 24 hours.
While the bullish sentiment driving leading cryptos higher has certainly contributed to the recent gains seen in HBAR, there are several supporting fundamental developments that can offer investors reasons to be upbeat about Hedera Hashgraph's future prospects as well. But before we get into those, just to recap, the potential delay in the progress of the proposed Infrastructure Bill that aims to regulate cryptocurrencies is the main driver of the positive mood in the market at present.
Hedera Hashgraph uses a vastly superior technology than the existing players in the blockchain space, promising higher levels of efficiency at lower operating costs. This is one of the reasons why it enjoys the strong backing from its community who believe that it has the potential to revolutionize the digital assets' space in the coming months and years. The recent soft action could also be the result of its supporters preferring to HODL or invest in the HBAR coin in the long term instead of making the most of the short-term volatility affecting the crypto sector lately.
In terms of its adoption, micropayment platform Dropp, built on the Hedera Hashgraph's network, announced its marketplace debut this week. Dropp empowers businesses to experience higher profits while enabling small value purchases with lower fees than other leading payment solutions, and will leverage the highly efficient network to realize its goal to a greater extent.
Key Levels to Watch
On the 4-hour price chart of HBAR/USD, moving averages as well as leading technical indicators MACD and momentum are signaling a strong bullish bias among investors. As long as the market sentiment remains upbeat, we could see Hedera Hashgraph's coin strengthen further in the near-term.
HBAR's price has crossed the pivot point at $0.214 and is sitting right above the first resistance level at $0.227. Further bullish action can see buyers taking it higher to test the next resistance at $0.241 and then at $0.268.