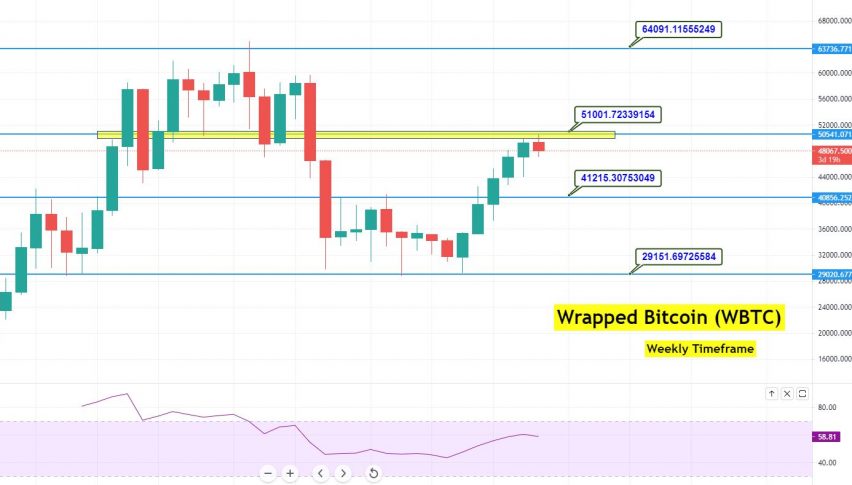 Wrapped Bitcoin Is Up Today, But Does That Mean the Bears Have Let Go?
Wrapped Bitcoin climbed 4.83% after significant activity yesterday. This is the first consecutive day of upward progress we've seen for Wrapped Bitcoin in about a week. This time last week, Wrapped Bitcoin was plummeting, falling from a three-month high of $52,700 (WBTC/USD) down to $46,350 in the same day.
Since then, Wrapped Bitcoin has been on an erratic decline, staying under the $46,000 resistance level. Today, it finally pushed past that level and is continuing its upward movement, fast approaching the $47,000 line.
Where Is Wrapped Bitcoin Headed?
Wrapped Bitcoin is considered to be on a bullish trend but could easily be grabbed by the bears again. There's a lot of wavering price action going on, making it a difficult crypto to predict at the moment. The volatile behavior this last week still illustrates an overall bearish movement for the week, but a bullish movement in the moment.
It's worth noting that over the last month Wrapped Bitcoin did not have a significant upward spike but did see a significant drop well below the expected level. Last week's lows around the $44,000 mark were similar to what we saw around the same time last month. It'll be interesting to see if the period from late last month to early this month is a fluke or something that Wrapped Bitcoin is going to repeat again shortly. The current upward movement could mean that Wrapped Bitcoin is on its way back above the $50,000 level, and last month's action would indicate that this would be a gradual increase rather than a sharp one.
Despite some rough waters over the last week, Wrapped Bitcoin is still seeing a trading volume of over $237 million. However, that is down almost 27% from yesterday, with investors cautious after recent erratic activity from the crypto.
Wrapped Bitcoin enjoys market dominance of 0.46% and a ranking among cryptos at #19.