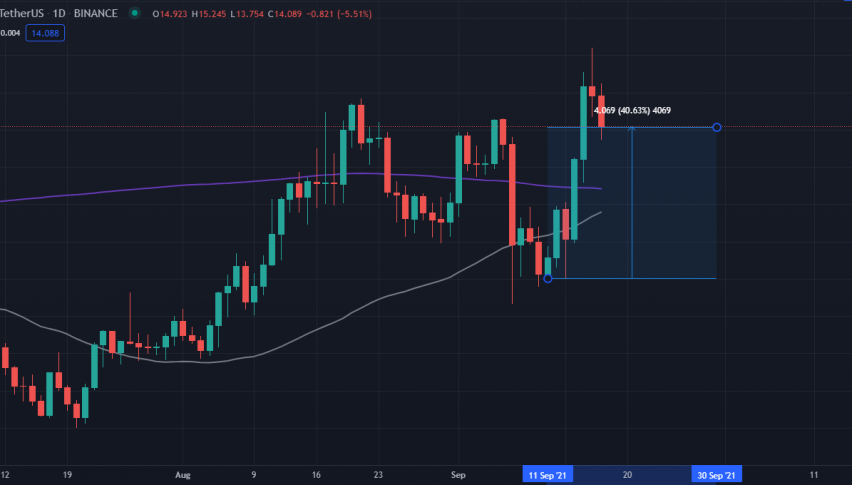 SushiSwap (SUSHI) up 40% in 7 days
Strong rally in *SUSHI rallying after last week's mini-crypto crash 
SUSHI shrugged off the recent crypto market crash, completely recovering the losses incurred. SUSHI dipped to a low of 9.343 during the crash but has since rallied higher and higher, never falling below this level again. The past 7 days proved to be one of the strongest weeks for SUSHI, as it gained 40+%, and is now trading above 14. It would seem that the panic sell-down was just a knee-jerk reaction – and an opportunity to buy the dip.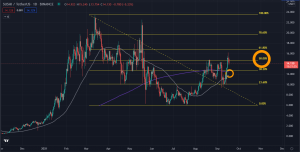 *SUSHI: Currently in the middle of a large range with a potential Golden Cross in the near future
From a longer-term perspective
Looking at SUSHI from a longer-term perspective, we can see that it is now almost in the exact middle of its trading range since the highs of March and the lows of June and July. Using the Fibonacci retracement tool, we can see that it is currently at the 50.00% level. 
This could be interpreted as the strength of the bulls and the bears being almost equal, with no definite direction. This can also be deduced by the consistent flattening of its long-term 200-day moving average (purple line), which suggests that the price range of SUSHI is consolidating in a tighter range with lesser volatility. 
Potential Golden Cross forming
There is however a potential "Golden Cross", which, if successfully established, may lead to SUSHI reaching all-time highs again in the near future. A Golden Cross is a bullish technical pattern, where a short-term 50-day moving average (gray line) crosses over a longer-term 200-day moving average (purple line). Technical analysts interpret this as a confirmation of an uptrend or a change of sentiment from bearish to bullish.  
What to do now? HOLD. 
Since SUSHI has been in a sharp rally the past few days, my bias is that it is most likely to correct and consolidate further before either moving higher or lower. Since it is also trading at the 50.00% Fibonacci retracement level, I would suggest waiting for further confirmation and indicators to appear. A fall below 10.00 could mean another leg down for SUSHI, and on the other hand, a rally above 16.80 to 17.00 could mean SUSHI revisiting 20 and possibly new highs in the near future. Currently, it is in an impasse between the bulls and bears, and the risk-to-reward is dead even. It's better to be a little bit late in a trade, while waiting for more confirmation, rather than taking an early trade to absorb unnecessary risks. For now, we have to wait and see what the SUSHI does in the next few days. HOLD. 
SushiSwap is a decentralized exchange, automated market maker (AMM) with the governance token, SUSHI. It ranks as the 66th-largest cryptocurrency, with a market capitalization of $1.8 Billion.